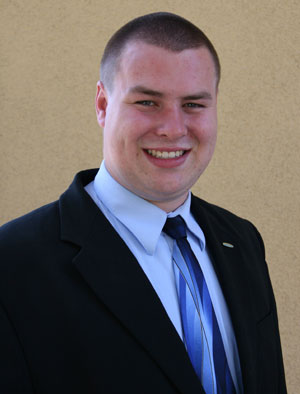 Michael Knotts was born and raised in the rural town of Yoncalla, Oregon and moved to California as a teenager. Like many students from low-income families, he did not think a college degree was possible, but Golden West College gave him the opportunity to pursue his college education. After high school, he came to GWC, but only attended for a semester and a half.  He had to stop to work full time to help support his mother and siblings.  Returning to Golden West College in his early twenties, he had a goal to pursue a degree in political science, in order to learn how to advocate for the disadvantaged of the world.
While enthusiastic and eager to learn in his classes, Michael began to discover another aspect of college life that he had always avoided in high school: extracurricular activities. Eager to be more involved and to learn more about Political Science, Michael joined the Model United Nations Club and discovered that he enjoyed being involved on campus. Soon after, Michael had joined the Associated Students of Golden West College as a Student Senator and several other clubs, including Alpha Gamma Sigma, and the Peace, Mind & Body Club. Inspired by new friends and activities, Michael ran for and was elected to the Student Council as the Finance Commissioner.
Student Government provided Michael a wonderful opportunity to advocate on behalf of students to the faculty, administration, and the community.  While serving as Finance Commissioner and later Vice-President, Michael participated on several campus-wide committees such as the Academic Senate, the Instructional Planning Team, the Student Services Planning Team, and Planning & Budget. He also chaired several committees including the Sustainability Advisory Committee, the Finance Commission, and the Student Senate. Michael has also advocated on behalf of students to our representatives on District Student Council Lobby Day, and by helping lead Golden West College students on the March in March.
In addition to his involvement on campus, Michael is also involved in the community. During the last election cycle, Michael devoted over 200 hours volunteering for various pro-education candidates in Orange County. Michael believes that in order for community colleges to survive this financial crisis, students need to get involved in the political process by helping elect people who will support education. Michael also enjoys helping clean up the Huntington Beach Dog Beach, which he does at various times throughout the year.  Cleaning the Dog Beach provides a wonderful opportunity to take a break from education and, as a frequent guest with his own dogs, Michael likes to ensure that they have a nice, safe place to play.
Michael will be continuing his education at the University of California, Irvine in the fall. He is eager to use what he has learned at Golden West College to be a successful student. His involvement in campus life at Golden West College has earned him campus and community recognition.