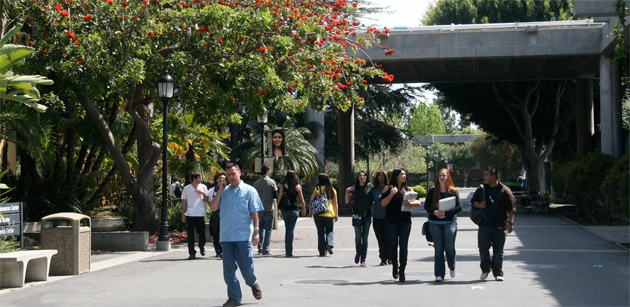 Located in the coastal community of Huntington Beach, also known as "Surf City," Golden West College is regarded as one of the most beautiful campuses in Southern California. GWC is a two-year, medium-sized college serving just over 14,000 students on a 122-acre campus.
Golden West offers an Associate in Arts (AA) degree, a strong university transfer program, career/technical education, general education, community services, and student support services. It provides a safe and secure location, a multicultural environment, and an active student body. The college is highly regarded for academic quality and innovation. In its earliest years, the college was recognized for its pioneering leadership in designing learning-centered programs and services for its student body and continues in that tradition today.
GWC  is also known nationally and internationally for its athletic programs. Since the school's opening in 1966, no other community college has won more state championships than Golden West College. In the past 44 years, Golden West has won 74 State Titles, 44 Regional Championships, and 165 Conference Championships.
Golden West College is part of the Coast Community College District, a multi-college district that includes Orange Coast College and Coastline Community College.
MISSION STATEMENT
Golden West College's mission is to create an intellectually and culturally stimulating learning environment for students and the community. Our students improve their basic skills, develop and enhance career opportunities, and/or prepare for transfer to a four-year institution as they become productive citizens and lifelong learners.
VISION STATEMENT
Golden West College is committed to excellence and endeavors to provide an optimum teaching and learning environment. This will be demonstrated by innovation which embraces demographic and technological changes.
VALUES
Our values are the ideals that guide us in our commitment to student learning and to the vitality of our community. The following ten ideals (in alpha order) represent the foundation for our mission. They guide us in our daily decisions, as well as inspiring and motivating us to accomplish our goals.
Access and Equity
We value and strive to ensure open access to our college and equitable opportunities for all the residents of our community.
Campus Environment
We value and support "Spirit of Place" through which the people, buildings, and grounds all serve to convey to our students that they are welcome and that our college is a special place of learning.
Collaborative Climate
We support active participation based on trust, openness, consistency, and respect in the college's decision-making process. We encourage students, faculty, and staff to work together to solve problems by listening to one another, by speaking honestly, and by demonstrating ethical behavior and responsibility for the good of the college.
Excellence and Innovation
We work to provide a quality educational environment for students by embracing a culture of assessment and continual improvement. We are inspired by our founding president's dictum to "Let Change Be the Tradition," to encourage innovation, creative problem-solving, and to welcome changes that will enhance the College's ability to fulfill its mission.
Inclusiveness and Diversity
We value diversity and recognize the contributions of all individuals. We support the free and open exchange of thoughts and ideas in an environment that embraces mutual respect and civility.
Leadership
We promote active leadership for students, faculty, and staff at all levels of the institution and through partnerships with the community at large. We embrace our responsibility to clearly communicate, inspire, and proactively respond to the changing needs of our students and community.
Learning
We aspire to high academic standards and support the personal growth of all our students. We are committed to student learning that culminates in identified student outcomes.
Stewardship and Sustainability
We are responsible for utilizing and developing our human, environmental, and fiscal resources efficiently and effectively and in a manner consistent with the principles of health and sustainability.
Teaching
We value the primary role that faculty play in providing students with a dynamic and challenging environment that maximizes learning. We also acknowledge the important roles that classified staff and managers perform in support of students and their learning.
Technology
We value the role that technology plays in reducing barriers to learning, increasing access to educational opportunities, creating new ways of addressing students' learning needs, and enhancing the administrative aspects of serving students and faculty.