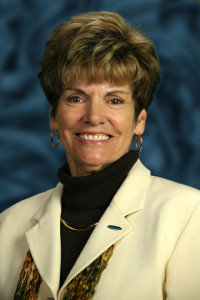 On December 8, 2011 the Huntington Beach Chamber of Commerce will honor Golden West College's Margie Bunten as the Huntington Beach Outstanding Citizen of the Year.
The recipient of this award must live or work in Huntington Beach and their work in the community must be voluntary, un-paid work. The meritorious service can be performed within the last year or over a span of years.
Bunten has been a Huntington Beach resident since 1975. She serves on the Huntington Beach Marketing and Visitors Bureau, Project Self-Sufficiency, and El Viento. She is also a director on the Advisory Boards for the Huntington Beach Assistance League Community, Council on Aging, and Orange Coast Memorial Hospital.
In her nomination letter, Norma Brandel-Gibbs wrote, "Her tireless enthusiasm in support of those in need is an inspiration to us all. Our community has benefited from her dedication, and her visionary leadership has opened doors for many disadvantaged individuals and organizations."
Margie has been a member of the GWC community for 20 years and has held her present position as the Director of the Foundation and Community Relations at Golden West for the past 13 years. She oversees the operations of the GWC Foundation office, its scholarship program, and fundraising events such as the GWC Gala, Texas Hold 'Em, and the GWC Patron's Chefs for Scholarships event. "It is wonderful to see the community support Golden West College. They understand that the community college system and in particular, GWC, is their education hub and is here to support businesses, students and life-long learners." Bunten commented.
This marks the second year in a row that a member of the GWC family has been honored. Ron Lowenberg, Dean of Criminal Justice and Nursing, was last year's recipient.