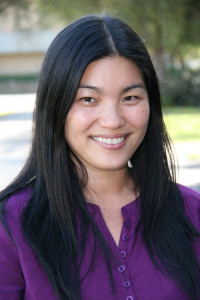 So, how does one become a Media Access Specialist in our Accessibility Center for Education? In Tien Tran's case, you start with having GWC students as parents working as instructional assistants on campus and setting the example of the benefits of that campus connection! Mom encouraged Tien to get a job on campus and her path took her from the Learning Resources Student Computer Center on the back of the old library in 1998 to Staff Development, to the Disabled Students Office, to six months as Graduation Clerk, back to the Disabled Student Services office as Media Access Specialist.
A nomination reads, "[Tien] tirelessly provides student support in their academic and personal needs throughout her job and beyond. As the Media Access Specialist it is left in Tien's hands to convert, prepare, and provide students books and materials in alternate means so they can fully participate in classes. She handles many faculty and student request for assistance and manages them effortlessly in a timely manner. She also coordinates our test accommodations which is a full time job in itself without complaint although this was not part of her original duties. Through her duties she ensures student's academic support and through her passion she maintains the students support." Tien really enjoys helping students and loves it when they tell her she's made a difference for them. And, like many employees of the month, she really appreciates the GWC family and her immediate coworkers and new ACE Director.
The work at ACE is pretty interesting. There, they can create Braille books, tests, handouts and syllabi for the blind using software and a special Braille embosser. They can also convert documents into electronic text, which will appear a line at a time on a "Brailler" that produces the document one line at a time on a unit about the size of an iPad.  For the learning disabled, audio books can be created at ACE. And, Tien is the liaison for faculty for special testing accommodations for students with disabilities.
You will find Tien in the old KOCE building when she isn't participating in a flashmob or Munchie Week, serving on committees or serving as the Region 8 representative for GWC's High Tech Center Training Unit.  It is through these outside-the-office activities that she recognizes she makes connections across campus that enhance her ability to serve students. She has earned a BS in Management Information Systems and a Masters in Occupational Studies, and although she used to like to play basketball and run, it is all about her kids now. She and her RN husband have three girls, ages 2, 3, and 6 and she is enjoying the job of taxi mom and spending fun times with her family, like a recent excursion to the Sleepy Hollow area of Torrance to view Christmas lights.
Congratulations Tien on a job well done.