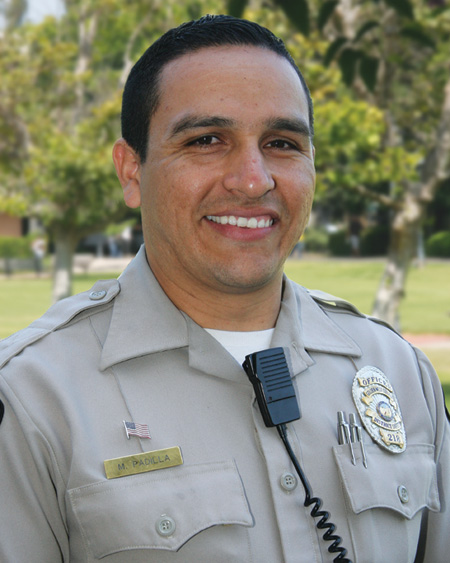 Ever since he was a kid, he wanted to be an officer of the law, and now he is living his dream.  Campus Public Safety Officer Manny Padilla has been a face on campus since 2000, received a GWC AA in Criminal Justice in 2002, and now patrols our parking lots and interior, taking care of everything from battery assists to incident reports, parking enforcement to escorts. He actually started as a Student Assistant in the Counseling Center, but soon moved to Public Safety and 8 years ago landed the full time position in Public Safety.
Manny calls himself a happy man. He loves being outdoors, helping people and having a job that includes a wide diversity of activities. He smiles when he thinks of his job – how wonderful it is to drive around this gorgeous campus and have the opportunity to get to know so many people and help so many. The hours, the holidays, the benefits – he just keep counting his blessings!
The Padilla family moved to California from Mexico when Manny was five, and he met his wife the next year, when he was 6 and she was 3, but they put off marriage till much later. They now have an 18 month old son who rides in a bob stroller when dad and mom go out for a run. Asked about hobbies, the answers came back with a familiar theme – the outdoors: mountain biking, running, paintball (a family affair with 25 relatives and friends!), and snowboarding. This is one officer that you don't want to mess with because when he's not enjoying those pursuits, he might be working out, exercising, practicing martial arts or taking a boxing class.  In High School, he earned the Coaches' Award for soccer and still plays a mean game.
Rumor has it he owned a '65 Mustang – is he a classic car fan?
A staff member commented that Manny "interacts with everyone on campus on the same level and is such a consistently positive presence on campus." We appreciate the strong yet friendly assistance he provides to any who need his help, and are very excited to see him receive this recognition of a job well done. Congratulations to you, Manny, and thanks for your part in making our campus the wonderful place it is to work!