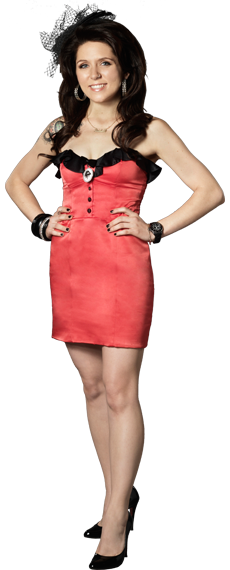 GWC Alumnus voted Fan Favorite in "Shear Genius"
She may not have won the big prize, but Janine didn't go home empty-handed. She was voted Fan Favorite, winning her a whopping $10K! on Bravo's reality show, "Shear Genius." Liam Neeson himself made the big announcement on Watch What Happens Live, and asked Janine for a response:
"I am so pumped to have won Fan Favorite! I cannot express my gratitude for everyone who supported me, and my work, on the show. Fan Favorite is the real contest with no politics. You are actually judged by your peers and fans of the show, not just a judging panel of four people. I had a total blast on the show, and just can't wait to see what the future holds. You haven't seen the last of me!"
GWC Cosmetology Alumnus, Janine Jarman
When she's not circling the globe running from photo shoot to fashion show, Janine can be found giving her clients their "mane" fix at her Hollywood salon, Hairroin. She has been experimenting with hair design and technique since the age of 14 and enrolled in Cosmetology at Golden West College soon after graduating high school.
Within her first five years, Janine had styled some of Hollywood's hottest stars including Fergie, Britney Spears, Scarlett Johansson and Christina Applegate. She served as the go-to stylist for Carmen Electra and the sexy burlesque group The Pussycat Dolls, whom she styled through their transition from vaudeville act to MTV video vixens.
From 2000 to 2007, Janine worked alongside her two mentors at Sexy Hair products, assisting in the development and launching of new product lines, as well as in the role of elite platform and international educator. In 2009, Janine joined the Sebastian Professional Design Team and now represents the brand on the West Coast.