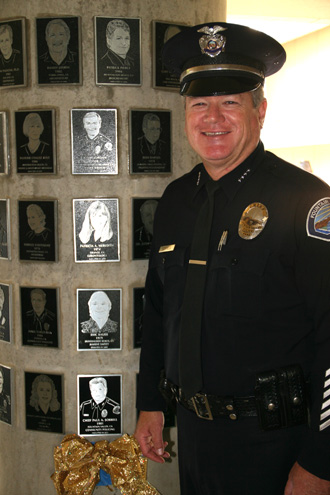 Chief Paul Sorrell attended the Golden West College Police Academy, Class No. 69, in 1981, and was recognized for outstanding achievement in Lifetime Fitness.  Upon graduation, he was hired as a Police Officer by the City of Fountain Valley.  He was promoted to Sergeant in 1990 and gathered experience from a variety of assignments.  While assigned as a Detective Sergeant, he was placed in charge of a newly developed Law Enforcement Apprehension Program where he worked collaboratively with many law enforcement agencies in the pursuit of career criminals, street level narcotic dealers and major narcotics traffickers.  The reputation of this Unit was of tireless pursuit of drug traffickers to remove narcotics from our communities.  While supervising this unit, he also led the Fountain Valley Police Department SWAT Team, which was used extensively throughout the Southern California area serving search warrants.
Chief Sorrell was promoted to Lieutenant in 1996 and returned to the Investigations Bureau following duties as a Patrol Watch Commander.  He was promoted to Captain in 2000 and assigned as the Support Services Commander.  In 2003, he was promoted to Chief of Police of the Fountain Valley Police Department.
As Chief of Police, Chief Sorrell instituted many initiatives, including a comprehensive Traffic Safety Plan which demonstrably improved traffic safety, reducing both fatalities and injuries in Fountain Valley.  Chief Sorrell is a constant innovator, always looking for methods to more efficiently and effectively provide quality police service to the citizens of Fountain Valley.  He was one of the architects responsible for moving the Special Weapons and Tactics Unit to a more cost-effective regional model, collaborating with other cities and Police Chiefs which ultimately led to improved service.  Additionally, under his command, he instituted "Compstat," a service delivery system that analyzes crime data to more effectively deploy personnel and resources.  This innovative crime-fighting approach has permeated throughout the entire organization, resulting in less crime and an improved quality of life for Fountain Valley residents.  He is very active in Southern California Law Enforcement and has served as the President of the Orange County Chief's and Sheriff's Association
Chief Sorrell is dedicated to helping people and organizations for the betterment of the community.  He is a staunch supporter of the Special Olympics and was instrumental in the support of the Law Enforcement Torch Run, which Fountain Valley Police Department participates in.
Chief Paul Sorrell has enjoyed a distinguished law enforcement career.  He has been a great Law Enforcement Leader, an example for others to follow, and a friend to Golden West College.