2010 Alumni Pillars of Achievement Recipient David Perry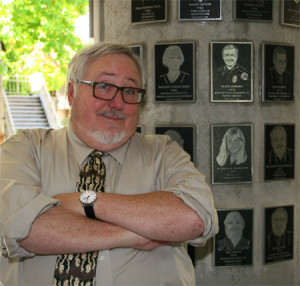 Our Hero behind the Screen, David Perry, Global Director of Education at Trend Micro, is one of the best respected and best known authorities in the world of computer viruses and malicious code. After completing his studies at Golden West College in 1975, he began his career in the antivirus world with SYMANTEC and McAfee Corporation, where he became a well known community leader through his involvement with CompuServe and AOL. With over 36 years of experience in the technical education and support field, David has been honored as a Security Superstar by CRN magazine, and now co-hosts a weekly radio show on WBAI (the Personal Computer Show). David also produces a podcast, Trend Micro Presents Global Security Insider with David Perry. David has served in the national Y2K center and co chaired three meetings in the White House, concerning the protection of America's critical digital infrastructure.
David has appeared on numerous national and regional television news broadcasts, including the ABC Evening News with Peter Jennings, CBS's Good Morning America, CNN/The Situation Room, and NPR All Things Considered. He is often looked to as a resource by news agencies such as Reuters and Associated Press. David appears on television radio and publications in every corner of the world. David continues to lead efforts to educate computer users in every walk of life. "Great system security begins in admitting that there is a problem", says Perry, "but that is only the first step towards working in a safer, more secure world." David collects rock, jazz and folk LP's, 45's and 78's, and plays the banjo, synthesizer and electric guitar. He is an avid amateur magician, and a full member of Hollywood's famous Magic Castle.
David lives in Huntington Beach, California with his wife, Margaret. Golden West College is proud to have provided beginning code for David's success!