2010 Alumni Pillar of Achievement recipient Jackie Gomez-Whiteley, Captain, Cypress Police Department.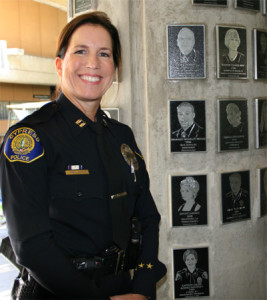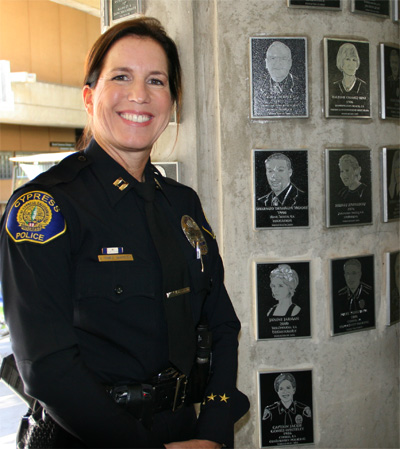 Service with Honor, Captain Jackie Gomez-Whiteley has been a law enforcement professional for 24 years.  She began her career as a Police Explorer for the Los Alamitos Police Department in October 1978 and later advanced to Police Cadet on July 2, 1984.  Jackie attended Loyola Marymount University on a basketball scholarship where she received her Bachelor of Arts degree in Psychology with a minor in Alcohol and Drug Studies. Upon completion of her undergraduate studies, she entered the police academy at the Golden West College Criminal Justice Training Center in 1986.  She was hired by the Orange Police Department on September 16, 1986.
While at the Orange Police Department, Jackie rose through the ranks and became the department's first woman motor officer, as well as sergeant and lieutenant having worked all three divisions: Patrol, Investigations and Administration. On January 19, 2009, she was selected as a Captain with the Cypress Police Department. Jackie is currently the Support Services Commander where she is responsible for the Investigations Bureau comprised of Criminal Investigations, Forensics, Records, and Property and Evidence; and the Administration Bureau comprised of Personnel and Training, Community Services, Professional Standards, and the Budget. In 1989, Jackie was involved in an officer-involved shooting of a kidnap and attempted murder suspect.  As a result of her actions, she was awarded the Orange Police Department's Medal of Valor, as well as honored by both the Rotary Club and American Legion. In 2007, Jackie graduated from the P.O.S.T. Command College, where she published an article in Police and Security News Magazine titled:  Dirty Bombs: Calculating the Threat. In 2009, she completed her Master of Arts degree in Organizational Leadership at Chapman University, and also received a certificate in Public and Non-Profit Leadership. Jackie is an instructor and Recruit Training Officer at the Golden West College Criminal Justice Training Center and has been on staff since 1994.  She is also the Program Coordinator for the Leadership and Ethics Institute. Jackie is a volunteer and President of Officers Give Hope, a non-profit organization dedicated to hosting marrow donor drives in the law enforcement community throughout the State of California. In November of 2008, Officers Give Hope was the recipient of the prestigious National Service Award presented by the National Marrow Donor Program in Minneapolis, Minnesota.
Jackie is married to John Whiteley, a retired lieutenant from the Orange P.D.  They have a daughter, Nicole.  Jackie has a step-son, Sean, who is a Tustin Police Officer, daughter-in-law, Mindi and Grandson, Trent.