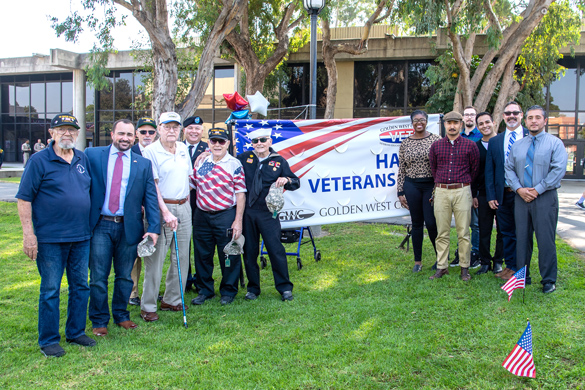 (GWC student veterans and veteran attendees at GWC's annual Veterans Day Celebration.)
Golden West College recognized Orange County veterans and student veterans at its annual Veterans Day Celebration on November 8, 2018. Veteran Michael Carrizo, GWC facilities specialist and advisor to the Student Veterans Organization, served as the event's master of ceremonies. Fascinated with the military since he was young, Carrizo's passion led him to enlist in the Marine Corps Reserve where he served in Operation Desert Storm. Carizzo proudly honored the heroic members of the Freedom Committee of Orange County who were in attendance, including:
David K. Hayward – Army Air Force – WWII
Jack Dee Linscott – U.S. Navy – WWII
Fernando A. Pellicciotti – U.S. Army – Korean Conflict
H. Buck Wall – U.S. Air Force – Cold War
John Scott Williams – U.S. Army – Vietnam War
Carrizo also recognized GWC Student Veterans in attendance, including:
Leroy Camacho – U.S. Army – Iraq War
Monee W. Santiago – U.S. Navy – OEF
Wesley Northern Jr. – USMC – Iraq War
Everett "Denton" Knapp Jr., U.S. Army Colonel (Ret.) and Director of the Tierney Center for Veteran Services, delivered the keynote address. "I challenge each one of us to demonstrate our thankfulness [to veterans], ask what they need … ask about their time in the service," said Knapp. "If we really want to honor our veterans, then volunteer to serve them. Join those organizations that provide service to those who have served us all so honorably."
Special thanks to the California Army National Guard of Los Alamitos' 40th Infantry Division Ceremonial Band and bagpiper Joel Daniel for providing music for the event.
The efforts of our veterans and the brave men and women of the Armed Forces provide the freedom and liberty we all enjoy. For more information about GWC's Veterans Resource Center (VRC), please visit goldenwestcollege.edu/vrc.