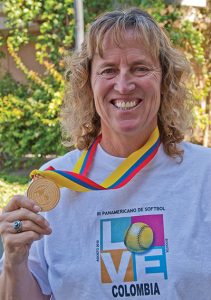 Softball Legend Suzy Brazney Retires from Golden West College
After 30 years as a GWC family member, softball great Suzy Brazney is retiring. Over the past three decades, Suzy has been a fixture in the Golden West College Athletics Department. Brazney has served as GWC's Assistant Softball Coach, Head Softball Coach, Instructional Associate in the Fitness Center, and Women's Equipment Manager. While GWC Head Coach for 16 years, Suzy and the Rustlers participated in the CCCAA Playoffs 6 times and Suzy received the Orange Empire Conference Coach of the Year Award in 2002.
Before coming to Golden West, Brazney played softball at Cal Poly Pomona while earning her bachelor of science. While an undergrad, Suzy was a two-time NCAA All-American and Broderick Award Nominee and was inducted into Cal Poly's Hall of Fame in 1994. She also earned her Master's degree in Exercise Physiology at Cal State Fullerton.
 Away from Golden West, Suzy is a legend in the softball world. She is a 19-time ASA All-American, member of 3 Pan-American Games teams (2 gold, 1 silver), Gold medal World Championship team and 3 ASA National Championship teams. She was inducted into the ASA Hall of Fame in 2010.  She continues to play softball, with her senior women's team winning gold medals at all the prestigious tournaments in 2014, one of which qualified them for the 2015 Senior Olympics. Future plans for Suzy include coaching softball at Chapman University, umpiring local high school softball, playing more pickleball and camping and fishing with her dogs.