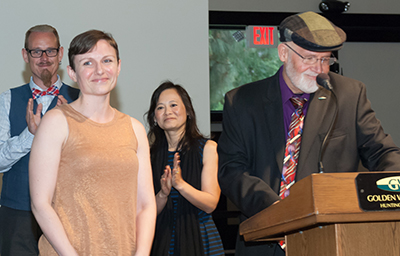 President Wes Bryan awarded the prestigious Charlie Sianez Exceptional Service Award to Associate Professor Sacha Moore at the Staff Appreciation Breakfast on May 18.  He described Moore as a "one-woman whirlwind." In addition to teaching literature, Sacha co-chairs the Institutional Effectiveness Committee, works with the equity team, the Curriculum committee, and the Recruitment to Completion Committee. She is also an SLO coordinator and helped lead the charge to reform our assessment procedures.
Sacha was co-creator of the Toolkit for Teachers workshop and participates in the Faculty Hiring Workshops. "Sacha is dependable, respectful, honest, and best of all, willing to shoulder the tough work that makes this campus great," said Wes.
The Charlie Sianez Exceptional Service Award is an annual award given to a GWC employee who has exhibited exceptional service to the college or the community. The award was established in 2006 by President Bryan in memory of Charlie Sianez, a valued member of the GWC Maintenance and Operations department for 20 years who exemplified excellent service to the college.