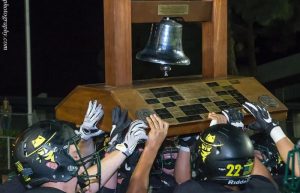 On Saturday, October 22, the Golden West football team won the Battle for the Bell for the sixth time in the last seven seasons over rival Orange Coast College.
Golden West has won three straight division games after starting the season 1-4. Next, they will host division opponent Grossmont College on Saturday, November 5th at 7pm.
With a second half surge, the Rustlers look to make a run at the playoffs if it can win the division outright.
More at gwcathletics.com