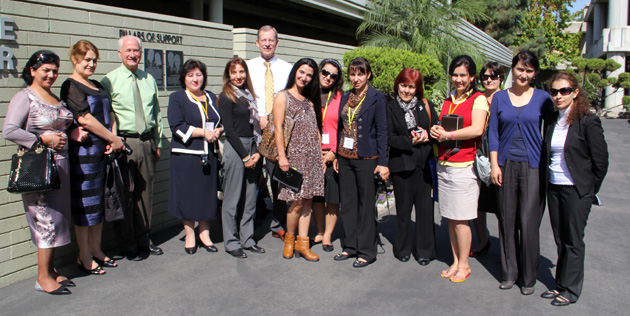 A delegation of 12 female police officers from the central Asian nation of Tajikistan visited the GWC Criminal Justice Training Center (CJTC) as part of a goodwill tour of various police agencies in California.
The tour, sponsored in part by the California Police Chiefs Association, started at the Women Leaders in Law Enforcement Conference in San Jose. The group visited two bay area agencies before traveling to Southern California where they toured the Irvine Police Department, Orange County Sheriff's Department, Fullerton Police Department, Cypress Police Department, Golden West College Criminal Justice Training Center, and West Cities Communications Center.
Female police officers in Tajikistan have been traditionally assigned solely to administrative duties. Their visit was designed to allow them an opportunity to meet and interact with female police officers and to watch them train and work alongside their male counterparts.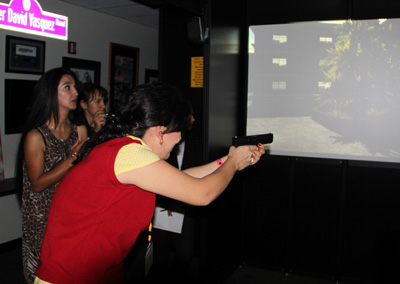 At Golden West, they sat in on an RBC class and asked numerous questions about the Police Academy through their interpreter. Chief Colleene Preciado was there to talk to the Tajik officers about her role as the SIBC Academy Coordinator at the CJTC and former OC Chief of Probation. However, probation was something unfamiliar to them so she first needed explained what probation was!
Chief Preciado later commented, "This was a very unique joint opportunity for GWC and a foreign country to come together to share, learn and advance professional standards in public safety. It is a compelling example of how our global interests are so similar when we take the time to examine, share, and learn from other cultures and countries." 

They ended their CJTC visit with a hands-on demonstration in the SIMS lab. Everyone erupted into laughter when the first one to try the simulator immediately shot the suspect on site! That time the interpreter wasn't needed – laughter is a universal language.
Tajikistan is moving toward increasing the range of responsibilities for female police officers including field patrol and the investigation of crimes against women and children, a progression that mirrors the evolution of female police officers in America.