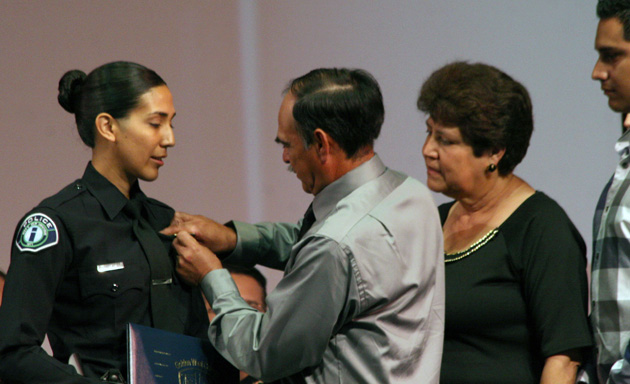 Twenty one graduates of the Basic Police Academy Class 145 were recognized at the Criminal Justice Training Center's ceremony on March 22, 2013, held in the Robert B. Moore Theater at Orange Coast College.
Ron Lowenberg, Dean/Director of the Criminal Justice Training Center served as the Masters of Ceremony. Kyle Bean gave the Class President's speech, reminding his fellow students of the sometimes difficult training they endured and spoke of their bright futures as Police Officers.
The Keynote Speaker was Chief Dan Llorens of the Fountain Valley Police Department. Chief Llorens reminded the graduates that no one is above the law and they must be the example of law abiding citizens.
Graduates stood proudly while family members attached their pin on their uniforms. Several graduates were honored as best in class for different categories, including the Director's Award, an honor given to the best in class voted by their peers. The ceremony ended with a tongue-in-cheek video of  Police Academy highlights.
Congratulations to all. Thank you for choosing to serve and protect!