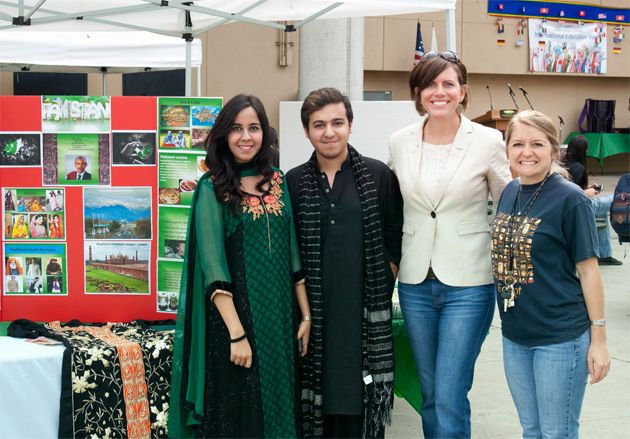 GWC International Education Week Brings Cultural Festivities to the Campus
The week of November 15th, GWC's Center for International and Intercultural Programs hosted a three-day event on campus celebrating international education.
Tuesday, November 15th, David Smith, author of "Peace Jobs: A Student's Guide to Starting a Career Working for Peace" and president of the Forage Center for Peacebuilding and Humanitarian Education, Inc., and Adjunct Faculty at George Mason University, held career advising and exploration workshops for both students and faculty.
On Wednesday, November 16th, a very fun and colorful International Festival took place in GWC's Student Center Patio. Students enjoyed booths hosted by international students, tasting international cuisines, performances from around the world, and discovering academic departments and study abroad trips.
Thursday evening capped off the week with A World of Thanks: An International Reception in the Student Center. International alumni, students and study abroad returnees came together in honor of GWC's 50th anniversary and reconnected with fellow Rustlers while enjoying a traditional Thanksgiving dinner.
International Festival Photo Gallery: https://goo.gl/photos/ZTAW1L6GhAFJ4nEy8
World of Thanks Photo Gallery: https://goo.gl/photos/78pVsgkqZhWioyrP7