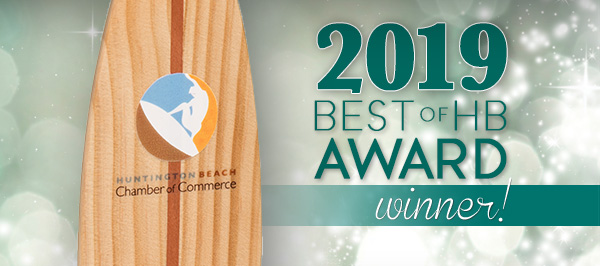 GWC Wins the Top Award for the Second Year in a Row at Annual Ceremony
Recognizing City's Finest Organizations and Individuals
Huntington Beach, CA – Nov. 12, 2019 – For the second year in a row, Golden West College has won the "Best of HB" award, the most prestigious honor bestowed by the Huntington Beach Chamber of Commerce at its annual "Best of HB" awards ceremony.
A total of 38 nominees, including businesses and individuals, vied for awards in 10 categories, including Sense of Place, Living Legend, and Big Kahuna. More than 2,500 people from the community voted for the winners, with top honors going to the leading vote-getters.
The "Best of HB" awards recognize community standouts that have contributed significantly to the betterment of the Huntington Beach community.
Weikko Werta, Southland Operations and Maintenance manager and site leader at AES Huntington Beach, presented the surfboard-shaped award to Golden West College, which beat out three other nominees — the Boys & Girls Clubs of Huntington Beach, Pacific City Apartments, and Grocery Outlet Bargain Market — in the "Best of HB" category.
The award is given to a person or organization for a "success and significantly positive presence."
"We are humbled and honored by this prestigious recognition. It's even better that this award comes from our friends and neighbors in our community," Golden West College President Tim McGrath said of the award, handed out at a luncheon ceremony Friday, Oct. 11, at the Kimpton Shorebreak Hotel.
"This award speaks to our tradition of providing pioneering, learning-centered programs for our students," McGrath said.