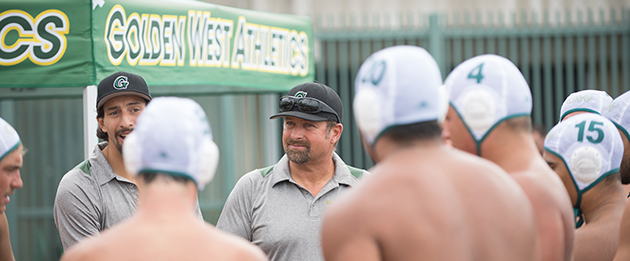 Oct 11, 2017  
With a thundering 29-0 victory for the Golden West Rustlers over the Santa Ana Dons, Coach Scott Taylor has established himself among the top of the class with the most wins for a head coach in Community College Water Polo.
Since Golden West was established in 1966 there have been 4 head coaches in the men's water polo program with an overall program record of 1357-188-6, an 87.5% winning percentage.
Tom Hermstad (1966-85) record of 407-106-3
Ken Hamdorf (1986-2000) record 458-51-3
Brian Kreutzkamp (2001) record 33-2-0
and Scott Taylor (2002-present) record 459-31-0
Taylor earned career win No. 459 on Wednesday, October 11, 2017.  During his tenure as head coach of the Rustlers – currently in his 16th season – Coach Taylor has an unmatched 93.7% winning percentage and a 459-31 overall record.
The Rustlers have won every Orange Empire Conference Championship (15 and counting), 14 of 15 Regional Championships and 7 of 15 CCCAA State Titles under Taylor's leadership.
Additional Highlights (since 2002):
3 undefeated seasons (2003, 2012, 2016)
72 All Americans
15 Conference MVP's
7 State MVP's
73 players have matriculated on to play at the 4-year level
CONGRATULATIONS SCOTT!