On Wednesday, April 18, 2012,  Golden West College hosted the Huntington Beach Chamber of Commerce Leadership Academy for their day in education. The Leadership Academy provides Huntington Beach professionals with a unique opportunity to connect with their community and to better understand the components of its government, public safety, business community, economic climate, social uniqueness, education and health care system.
The Academy was formed in 2003, and is sponsored by The Robert Mayer Corporation. Participants begin their 9 month experience with a 2-day team building retreat, then meet for an all day program once a month. This month's program focused on education. The day began with tours of various K-12 schools in Huntington Beach before meeting at Golden West College for panel discussions about the local education system. The first panelists were High School Superintendents Greg Plutko, Ed.D., HB Union High School District, Gregg Haulk, HB City School District, and William Loose, Ed.D., Ocean View School District. The second panel consisted of District Board Member Presidents Dr. Michael Simons, HB Union High School District, Brian Rechsteiner, HB City School District, and Tracy Pellman, Ocean View School District.
Golden West College President, Wes Bryan, greeted the group in the afternoon and gave a presentation about GWC and the Community College system.  The day closed with interactive tours of the Criminal Justice and Nursing simulation labs led by the departments' Dean Ron Lowenberg and Lab Technician Brad Moore.
A representative from Golden West College has participated in the Academy every year since it began. This year's members are Dr. Faye McPhail Naples, Vice President of Student Success and Anna Greenwald, Outreach Coordinator. GWC's alumni of the Academy are Dr. Monte Perez, former V.P. of Student Services, Dr. Lois Miller, V.P. of Instruction (retired), Margie Bunten, Director, Foundation and Community Relations, Belen Genet, Manager, Outreach & Employment Services (retired), Jeff Courchaine, Dean, Business & Social Sciences, Debbie Bales, Manager, Outreach & Promotions, and Crystal Crane, Director, Human Resources.
Graduates have appreciated the networking opportunities, the lasting relationships, and business partnerships developed with fellow classmates. To be eligible to participate in the HB Leadership Academy, one must live or work in Huntington Beach.
2011- 2012 Huntington Beach Chamber of Commerce Leadership Academy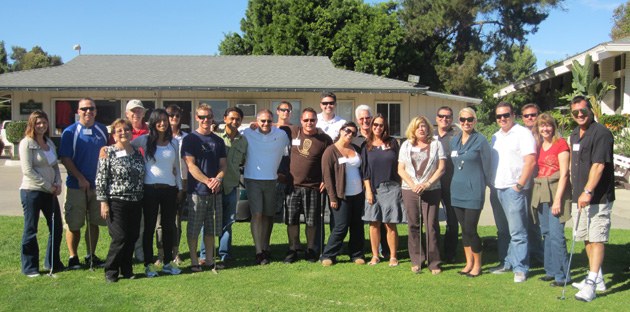 Iosefa Alofaituli, Executive Director, Oak View Partnership
Carrie Bollwinkle, Executive Director, The Boeing Company
Dana Barton-McKee, Vice President, Bartco Lighting, Inc.
Steve Bushhousen, Lieutenant, HB Police Department
Anthony Campo, Owner, CrossFit Surf City
Jim Duncan, Owner, AIM Mail Center
Jonathan Ford, D.D.S., Ford Dental Group
Leonard Gleason, Owner, Total Merchant Services
Jenelle Godges, Region Manager, Southern California Edison
Anna Greenwald, Outreach Coordinator, GWC
Rochelle Groh, Sustainability Supervisor, Rainbow Environmental Services
Gregg Haulk, Superintendent, HB City School District
Diana Keadle, Director, The Hilton Waterfront Beach Resort
Bryan Kistler, Firefighter/Paramedic, HB Fire Department
Megan Martin, Director, The Hilton Waterfront Beach Resort
Patrick McIntosh, Fire Chief, HB Fire Department
Marilee Movius, Director, HB Chamber of Commerce
Dr. Fabienne McPhail Naples, Vice President, GWC
Zach Newkirk, Mortgage Banker, Greenlight Financial Service
Keith Patterson, Manager, Clevland Golf/Srixon
Cynthia Perazzo, Senior V.P., Hoag Memorial Hospital Presbyterian
Dr. Gregory Plutko, Superintendent, HB Union High School District
Darryl Santa, President, Alpha & Omega Computer and Network Services, Inc.
Jeff Snow, Executive Vice President, Rainbow Environmental Services
Sue Taylor, Owner, Blue Ribbon Insurance Agency
Brent Theobald, Director, Vanguard University
Robert Wentworth, V.P., HB Marketing and Visitors Bureau
Jerry Wheeler, CEO, HB Chamber of Commerce
Darrin Witt, Captain/President, HB Firefighters Association