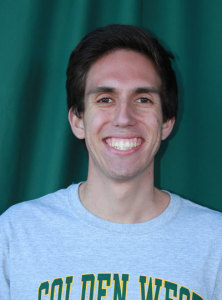 Each year, the Orange Empire Conference names one male and female student athlete from each member college to the Character Champion Team while naming overall winners of the Character Champion Award. The award is given to the student athlete who displays the following values; sportsmanship, respect, caring, fairness, civility, honesty, integrity and responsibility shown through a specific action, ideally directed toward an opponent during competition. The criteria also includes the action of putting the team and teammates before oneself while acting as a positive role model. The inaugural award was given out following the 2009-10 academic year. Since its inception, the OEC Character Champion Award has been sponsored by Fair-Play Scoreboards.
For the 2014-15 season, Javier Venegas of Golden West College was named the Male Character Champion and Kobi Pekich of Irvine Valley College was named the Female Character Champion.
Male Character Champion – Javier Venegas, Golden West
Venegas was selected as the Male Character Champion for the numerous ways in which he gives back to his community and his campus. A member of the Golden West College cross country team and track & field team, Venegas also serves as Inter-Club Council Vice Chair for the Golden West College Student Government. He is also a student member of the Campus Emergency Response Team (CERT) Club, the Alpha Gamma Sigma Honor Society, the Alliance of Cultural Advancement Club and the Student Athlete Advisory Council.
Off campus, Venegas is an Eagle Scout and a Vigil Member of the Order of the Arrow, the National Honor Society for the Boy Scouts. With the Boy Scouts Venegas received the Pope Pius XII medal, the highest religious medal a Catholic Scout can receive, as well as the Venturing Leadership Award, again the highest honor, this time for Venturing in the Boy Scouts.
Venegas credits the skills he learned in the Boy Scouts for his quick action during a high school cross country meet when a teammate was trampled by over 100 runners. Venegas was the first person to his injured teammate and quickly used his own sweatshirt and jersey to help stop bleeding from a head wound his teammate sustained. Venegas stayed with his teammate for over 30 minutes as they awaited medical personnel.
Finally, Venegas also volunteers with Isiah's House, a homeless shelter in Santa Ana, while also working with Barks of Love, a program to help find homes for abused animals. Venegas regularly participates in beach cleanups and works as a Confirmation teacher's assistant at his church.
—————-
This is an excerpt of a story on the Orange Empire Conference website. The full story is available at: http://www.oecsports.com/characterchampion/characterchampion1415