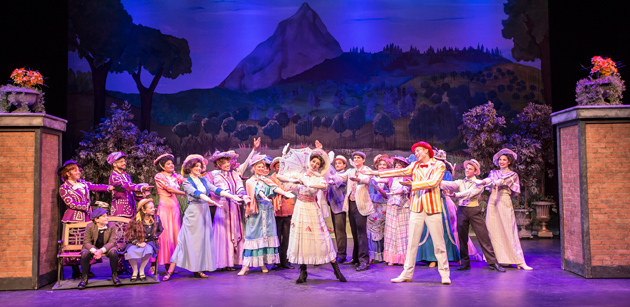 On May 25, 2016, The University Arts (UniArts) Awards were presented in conjunction with the National Youth Arts Awards at the Rose Center Theater in Westminster.
We are proud to announce that Golden West College Theater Arts received five awards for its production of Mary Poppins. 
Outstanding Lead Actress – Dayna Sauble, as Mary Poppins
Outstanding Lead Actor – Zachary White, as Bert
Outstanding Supporting Actor – Jay Harbison, as George Banks
Outstanding Direction – Martie Ramm
Outstanding Choreography – Martie Ramm
When Director Martie Ramm heard about this recognition, she congratulated Dayna, Jay and Zack, and added, " My thanks as well to the entire company as it did indeed take a village to produce a great MARY POPPINS."
About the Actors
Dayna Sauble (Mary Poppins) was thrilled to be portraying a dream role of hers as well as finally flying in a show!  Some of her favorite past roles have been: Ariel (The Little Mermaid), Belle (Beauty and the Beast), and Jane (Tarzan). She currently works as a performer at Teatro Martini and also performs as various princesses for kids' parties and events. 
Zackery White (Bert) has been a part of musical theater since he was 10 years old.  He most recently played in shows such as Beauty and The Beast (Lumiere), Into The Woods (The Baker) and Seussical (Horton).  This is his second year as a student and his very first show here at Golden West College.
Jay Harbison (George Banks) appeared in his third show at Golden West College. His training is in choral music and he has been in two show choirs and performed at several national competitions including the World Music Festival. He has performed as a dancer as well as an actor in many shows and was a dancer in several parades at Disneyland before joining the Navy and performing with the Navy Choir. Jay has had leading roles in several productions over the years such as South Pacific (Emile De Becque), Grease (Danny), Godspell (Jesus), and Hansel and Gretel (Hansel). He has also played principle roles in other shows including Monty Python's Spamalot, Romeo and Juliet, Les Miserables, Cinderella, Little Shop of Horrors, The King and I, Big River, and On Broadway, a tribute to Broadway musicals of the 80's in which he was a featured singer and dancer.
Full-list of UniArts Awards
Outstanding Lead Actor (UniArts Awards):
Nick Manfredi as Dr. Thomas Stockmann in Enemy of the People (UCI Claire Trevor School of the Arts)
Jordan Schneider as Berger in Hair (Chapman University)
Outstanding Lead Actress (UniArts Awards):
Anna Belmer as Sheila in Hair (Chapman University)
Kristen Daniels as Petra Stockmann in Enemy of the People (UCI Claire Trevor School of the Arts)
Jennifer Holcombe as Mayor Betta Stockmann in Enemy of the People (UCI Claire Trevor School of the Arts)
Alex Raby as Catherine Stockmann in Enemy of the People (UCI Claire Trevor School of the Arts)
Dayna Sauble as Mary Poppins in Mary Poppins (Golden West College Theater Arts)
Outstanding Supporting Actor (UniArts Awards):
Parker Apple as Woof in Hair (Chapman University)
Outstanding Supporting Actress (UniArts Awards):
Victoria Bohush as Jeanie in Hair (Chapman University)
Outstanding Ensemble (UniArts Awards):
Hair (Chapman University)
Outstanding Direction (UniArts Awards):
Shannon Corenthin and Tosh Turner for Hair (Chapman University)
Jane Page for Enemy of the People (UCI Claire Trevor School of the Arts)
Martie Ramm for Mary Poppins (Golden West College Theater Arts)
Outstanding Lead Actor (UniArts Awards):
Austin Kinzer as Claude in Hair (Chapman University)
Zackery White as Bert in Mary Poppins (Golden West College Theater Arts)
Outstanding Supporting Actor (UniArts Awards):
Jay Harbison as George Banks in Mary Poppins (Golden West College Theater Arts)
Rehjii Martin as Hud in Hair (Chapman University)
Outstanding Supporting Actress (UniArts Awards):
Samantha Isidro as Dionne in Hair (Chapman University)
McKenna Ryan as Crissy in Hair (Chapman University)
Outstanding Choreography (UniArts Awards):
Spencer Biggs, Chris Marks, and Courtney Zelter for Hair (Chapman University)
Martie Ramm for Mary Poppins (Golden West College Theater Arts)
Outstanding Orchestra (UniArts Awards):
Hair (Chapman University)