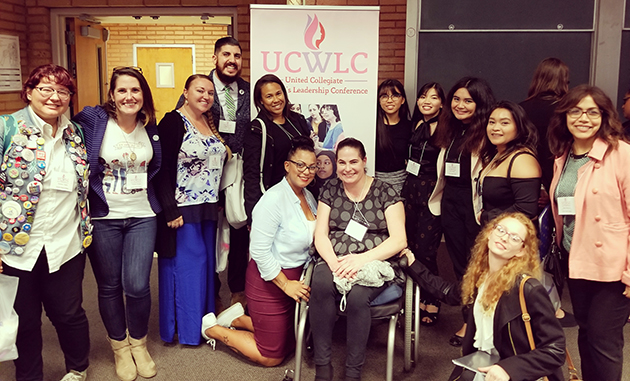 The Office of Student Life & Leadership and Student Equity sponsored 12 students to attend the United Collegiate Women's Leadership Conference (UCWLC) on November 17 & 18, 2017 at Loyola Marymount University.
The UCWLC is an interactive transformational experience where women from all walks of life come together to understand the authentic leader they have within themselves while preparing them to tackle critical issues facing their campus and larger communities.
Golden West College students attended conference sessions on "Finding, Understanding, and Utilizing Your Authentic Voice," "Dare to Be: Overcoming Impostor Syndrome," and "Thrive: Cultivating Inclusive Communities." Additionally, Golden West College students were paired up with fellow students from around the country for two sessions of "Women's Empowerment Coaching," where they engaged in active listening and meaningful dialogue about their individual leadership experiences in college.
The GWC students pictured in the photo are Brittany Melton, Carolyn Dao, Casey Wilson, Erin Araneta, Jenna Hirao, Karina Vargas, Leah Fudim, Melissa Battles, Natasha Campbell, Nicole Randolph, Nina Dinh, Vanessa Hardin, and Patricia Castillo. Advisors pictured are: Therese Grande and Frank Cirioni