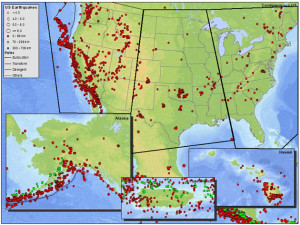 The Massen Greene Foundation has awarded the Geology Department at Golden West College with a $35,000 grant to seed its new Associate in Science Degree for Transfer (AS-T) Major. The grant came shortly after GWC's acceptance of a large rock and mineral collection donated by Rebecca Nelson last Spring. The Foundation was impressed with the Geology department's new degree program and by the enthusiasm that instructor Bud Benneman and instructional associate Joan Deniken showed when they accepted the Nelson collection.
The grant is intended for the exclusive use of the Geology Department for the purpose of purchasing equipment and supplies needed to enhance the new AS-T major. The department will be purchasing a seismograph, tied into the California State Geological Survey, the United States Geological Survey, and the international real-time earthquake monitoring system. This will allow students to interface with global earthquake and regional seismic events as they occur. Other portions of the grant will fund rock saws and polishing equipment.
Golden West College is the only college in the district to offer the Geology AS-T major and is currently working with CSULB, CSUF, and UC Riverside to develop a pathway for GWC students to enter into their BS Degree programs.