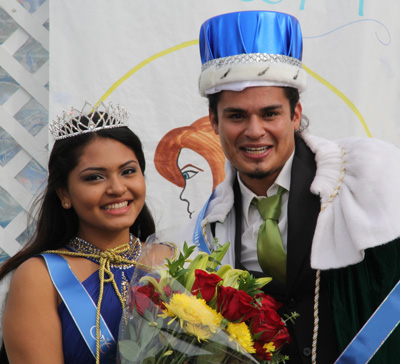 The 2013 Homecoming Game was played on Saturday, October 26, where GWC's new Queen and King were crowned during half-time festivities. With only 15 minutes on the clock, volunteers transformed the 50-yard line into this year's theme, "Under the Sea" complete with a red carpet for the Homecoming Court to take the field. After Master of Ceremonies Mark Craig introduced the Court, a banner was unrolled naming Jessica Bravo as the new Queen and Roman Osorno the King. Last year's Queen Kelly Gadea was on hand to crown the new queen.
Queen Jessica Bravo, 19, graduated from Costa Mesa High School in 2012 and immediately enrolled at GWC. She was attracted to Golden West College because she was interested in the Police Academy. However, she has decided to change her major to Political Science and transfer to UC Berkley. Jessica volunteers in her community in her spare time, and was the recipient of the Dr. Americo Lopez Rodriguez Scholarship.
King Roman Osorno, 27, graduated from Villa Park High School in 2004. He chose to attend Golden West College because of the exceptional Nursing Program and the campus location. His major is Nursing and Biology and he plans to transfer to a University to earn his Bachelor of  Science Degree. Roman has been awarded the Academic Honors Award and the Shining Star Caregiver Award. He is an overall athlete, loves animals, fish tanks, and parrots.
The Queen's Court includes Stacey Espinoza, Brittany Swigart, Thuy Nguyen, and Mikayla Richards. Andy Cook, Hugo Cholula and William Gomez are on the King's Court.
Homecoming has been a tradition at Golden West since it opened in 1966. It is a tradition built around a football game that encourages school spirit and welcomes back alumni. Homecoming Court elections, open to all students, were held September 30 to October 3. The King and Queen were then selected from the Court finalists by four judges: Chad Bowman, Brian Morris, Karen Kuehner, and Christina Oja.
By the way, we also won the game! The Rustlers and the Santa Ana Dons were tied 7-7 at half-time, but the Rustlers came back in the second half to beat the Dons 28-16. For game highlights go to www.gwcathletics.com.