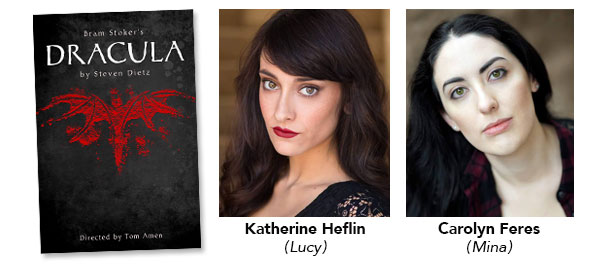 Congratulations to Golden West College actresses Katherine Heflin and Carolyn Feres for being named nominees for the Kennedy Center/American College Theater Festival (ACTF) Irene Ryan Acting Scholarships for their performances in GWC's production of Dracula by Steven Dietz and directed by Tom Amen.
Katherine Heflin (Lucy) and Carolyn Feres (Mina) will be eligible to compete for scholarship awards at the 51st annual KCACTF Region 8 gathering, which will be held mid-February 2019 at the Los Angeles Theater Center in Downtown Los Angeles.  They can also proudly place the words "Irene Ryan Award" on their acting resumes.
Since 1972, the Irene Ryan Foundation of Encino, California, through the Kennedy Center American College Theater Festival, has awarded Irene Ryan Acting Scholarships to provide recognition, honor, and financial assistance to outstanding student performers wishing to pursue further education. These scholarships are made possible by the generosity of the late Irene Ryan who is best remembered for her portrayal of the lovable and feisty 'Granny Clampett' in The Beverly Hillbillies.
For more information on GWC Theater Arts and its upcoming productions, please visit gwctheater.com.