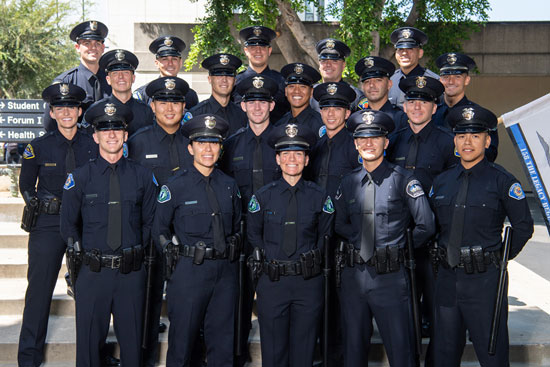 GWC's RCJTC Basic Police Academy Class 158
20 recruits from GWC's Regional Criminal Justice Training Center's (RCJTC) Basic Police Academy Class 158 graduated from the intensive six-month program on September 14, 2018, at the OCC's Robert B. Moore Theater.
The RCJTC prides itself on providing the highest level of training, to ensure graduates become successful officers in today's demanding environment. After recently returning from a meeting with the Orange County Commission for Peace Officers Standards and Training, Dean and director of the RCJTC, Ron Lowenberg, proudly announced, "Out of 42 academies in the state of California, Golden West is ranked number one."
Lieutenant Willie Triplett of the Anaheim Police Department, the executive training officer for Class 158, announced that his class was the first to start and finish at the college's new state-of-the-art training facility. "Of the many concepts we focus on at the center, none is more important than character," said Triplett. "The Six Pillars of Character is referred to, or integrated into every class taught and every assignment given." Training officers encourage recruits to adopt these same character principals in their personal lives and help those in our communities who are less fortunate. Class 158 was challenged to use a portion of their off-duty time working to benefit others, and they participated in several community service events including: A 5K run for the US Marine Corps. Dark Horse Battalion in Laguna Hills, a Kiwanis Club "Clean Up" day in Garden Grove and Dog Beach "Clean Up" in Huntington Beach, and a Special Olympic Torch Run conducted by the Orange Police Department, among others. Triplett added, "These community service events are only a few examples of what this class accomplished, and I believe they are beginning their careers with an excellent understanding of what it means to be good representatives of their community, and our profession."
Class 158 graduates include:
Russell Arthur Amundson
Kyle Tyrone Angel
Karen Aileen Bicskei
Ryan W. Burke
Jacob Brandt Caron
Renzo Chumbe
James Matthew Denevan
Tyler Eisenhauer
Madalyne Dessaint Handy
Meghan Sebastina Haney
Ryan Joseph Klug
Robert Machuca
Jake Thompson Melia
Lawrence S. Moon
Marc Ryan C. Navarro
Kylan Steven Peterson
Brandon Joseph Sidler
Michael Slaughter
Brett Daniel Smith
Kyle D. Smith
Class 158 president, Meghan Haney recalled the challenges the class overcame, especially during the first day of instruction, "Black Monday." "Even during through the pain, we grew as a class in knowledge, physical strength and maturity," said Haney. "At the end of each day I left the Academy with a reinforced drive that I was put on this earth to become a police officer." Many staff members commended Class 158 on entering the police force in our current climate. "I cannot think of a better time to wear my uniform like a cape, and my badge like a superhero symbol," Haney added. "Class 158 is ready, willing and eager to do our duty."
The keynote speech was delivered by Huntington Beach Police Department Chief, Robert Handy. "These 20 officers come from all over the country, some have served in the military, most have earned their four-year college degrees, and a couple have even earned their master's degrees," said Chief Handy. "Their backgrounds are diverse, they come from all walks of life." Chief Handy shared one of his favorite quotes from Thomas Jefferson with the class: "I believe in luck, the harder I work, the luckier I get." He added that this statement is so true for policing, and offered a final word of advice to Class 158, "The more you put into your job, your preparation, your own development, your training, and the service you provide, the more successful you will be."
Lieutenant Triplett announced the certificate and award presentations:
Academic Achievement: Tyler Eisenhauer
Firearms Proficiency: Ryan W. Burke
Lifetime Fitness: Tyler Eisenhauer
Report Writing: Madalyne Dessaint Handy
Field Problem Scenarios: Ryan Joseph Klug
Honor Recruit: Brett Daniel Smith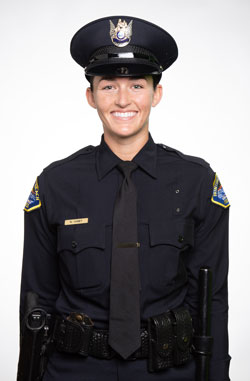 Officer Meghan Haney
Dean Lowenberg announced Class 158's Director's Award recipient, class president Meghan Haney. The Director's Award is voted on by the class, and is given to the recruit who best embodies and lives by the Six Pillars of Character.
These 20 exceptional graduates will go on to serve in local police departments in and around Orange County.