On Thursday, May 23, Golden West College held its 46th Annual Commencement with a bit of irony. The two key speakers were a Chief of Police and a felon with 2-strikes. Had they met before under less pleasant circumstances?
Chief Jackie Gomez-Whiteley of the Cypress Police Department delivered the Commencement Address just minutes after Dale Lendrum gave the Student Address. Ironically, Dale has a criminal record with 2-strikes against him. Dale received the  R. Dudley Boyce Outstanding Student Award and the recipient of this top award customarily delivers the student address at Graduation. What! GWC's top award was given to a felon? Read on.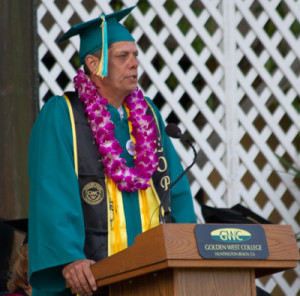 Dale shared his lifelong dream of attending college after overcoming a 30-year addiction to hard-core drugs and the criminal lifestyle that accompanied it. With two-strikes against him, he knew that he had to turn his life around, and an education was essential. Starting at a community college was his only option and Dale felt that "Golden West College spoke to him."
Overwhelmed by the tremendous outpouring of support he received from his campus, Dale looked for a way to give back – serving in student government for nearly four years, including two years as ASGWC President. Through hard work, determination and the limitless support of others, he was able to achieve Permanent Membership status in the Alpha Gamma Sigma Honor Society.
Dale's incredible success story is not over. He has been accepted to the highly regarded Communication Studies Program at CSULB and hopes to return to a community college to teach one day.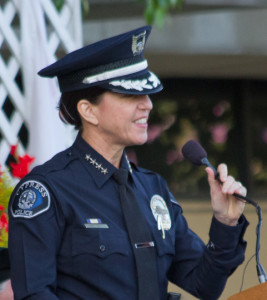 Jackie Gomez-Whiteley took a very different path to success. After graduating from the GWC Police Academy in 1986, she was hired by the Orange Police Department and rose through the ranks to become the department's first woman motor officer, as well as sergeant and lieutenant having worked all three divisions: Patrol, Investigations and Administration. This accomplishment was not easy during a time when law enforcement was a primarily male-dominated.
In 2009, Jackie was hired as a Captain with the Cypress Police Department and by 2011 she was appointed Chief. Under Chief Gomez-Whiteley's leadership, the Cypress Police Department has been recognized by Crime Survivors as the Community-Policing Organization of the Year for 2012 and by the Orange County Human Relations Commission for their 2013 Community-Policing Award. She was honored by OC Metro as one of 20 Women to Watch in 2013 and was nominated by the Orange County Business Journal for the 2013 Women in Business Award.
Although these two Rustlers are polar opposites, their speeches had some similarities. They both overcame obstacles and challenges to meet their goals and they encouraged the graduates to follow their dreams. Both speakers gave credit to their family, friends, and mentors for their success.
When President Wes Bryan spoke to the graduates, he also recognized the challenges that successful students overcome. "You got here tonight by successfully navigating your way through different kinds of classes, with different kinds of teachers, with different sets of regulations and different types of requirements. And yes, life happened along the way. College was not the only thing you had to balance while you were on this journey. These challenges stopped others who started with you. However, you have persisted often in spite of those difficulties, you completed and tonight you are graduating. You are wearing the gown!"
A highlight of the evening was at the very start. As the students entered the Quad, the faculty lined the walkway to cheer them on with confetti and streamers.
We are very proud of the 952 students who received their Associates Degree and the 395 students who received a Certificates of Achievement. Among them, 196 students graduating with honors having earned a 3.5 GPA or higher and seven graduates with a perfect 4.0.
Congratulations to All!