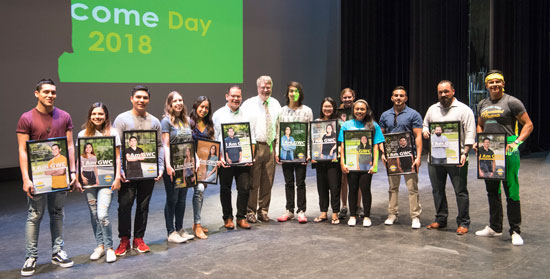 GWC students surround President Tim McGrath at Welcome Day 2018
Golden West College launched its "I Am GWC" campaign on Wednesday, August 22, 2018, timed to the college's Welcome Day orientation for new students. The campaign promotes and celebrates GWC's diverse student community with authentic images featuring current and recently graduated students on campus. Three "I Am" statements give extra insight into each student's individual background and interests. A total of 23 students participated in the campaign, and 24 double-sided banners can be seen around the central quad and main campus entrances.
At the start of Welcome Day, close to 600 new students filled GWC's Main Stage Theater. President Tim McGrath gave a warm welcome to the crowd, then invited 13 students from the campaign to join him on stage, each holding their framed "I Am GWC" poster. The students shared personal stories of why they "are GWC," and offered advice to the new students on how to get the most out of their college experience.