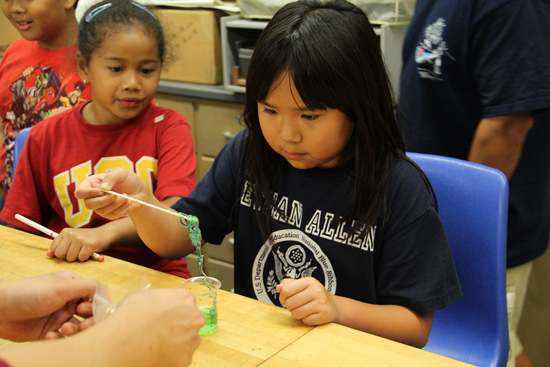 GWC hosted its 10th annual Science Showtime at the college's Math/Science Building and around campus on September 28, 2019.  The event featured over 30 hands-on activities for kids, including making exploding gummy bears, bug hunting in the college's Native Garden, programming a Lego robot, and making slime.
Science Showtime introduces kids to the world of scientific study through hands-on activities that they wouldn't usually be able to do in their own classrooms. The event is aimed at elementary and middle school students and was first developed by former chemistry department chair, Carol Grimes, who partnered with the Huntington Beach Rotary to bring her vision to life. "The event benefits the community by inviting them onto our campus and introducing them to our instructors," said Nalani Queja, instructional associate for biological sciences at GWC. "We get to inspire the next generation of scientists, show them how cool science is, and demonstrate how it can be incorporated into their everyday lives."
Science Showtime attracted over 2000 attendees and 200 volunteers. 25 GWC faculty performed on-site demonstrations and guided students through the various workshops. The event has been an annual tradition for many area students, with thousands returning year after year. "Students have fond memories of their experience at Science Showtime," said Queja. "I know one student who remembers attending the event each year growing up, and she's now attending GWC this fall."
More information about Science Showtime can be found at goldenwestcollege.edu/science-showtime.