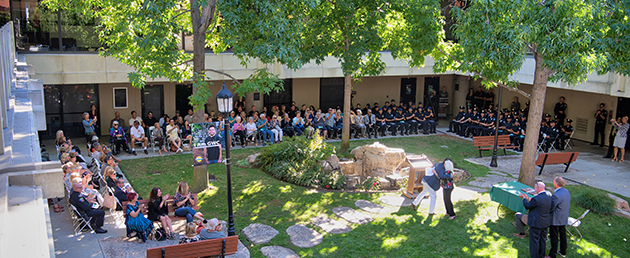 On Thursday October 18, the Golden West College Foundation held its 23rd annual Courtyard of Honor Ceremony to recognize the recipients of the Alumni Pillars of Achievement and Pillars of Support. The event celebrates what GWC alumni achieved with their education and thanks the donors who make it possible.
This year, The Huntington Beach Chrysler Dodge Jeep Ram Pillar was added as the college's 91st Pillar of Support. A Pillar of Support are designated for individuals or businesses that donate $25,000 or higher. These funds are used to support student success in a variety of areas, including scholarships for the Criminal Justice program, assistance for student nurses, memorial scholarships in honor of a loved one, or advanced training for students as they transfer to a four-year institution or join the workforce. Pillars of Support are identified by a plaque installed on one of the many concrete pillars located throughout the campus. Patty Holohan, HBCDJR's Director of Community Relations was present at the ceremony to accept the honor on behalf of the dealership's owner Pete Shaver. "Mr. Shaver felt a responsibility to give back to an institution that significantly makes an impact on our society," expressed Holohan. "Education is the foundation which strengthens our community and we are immensely proud to support Golden West College."
Three GWC alumni were inducted into the Alumni Pillars of Achievement this year. The honorees were Chief Tom Kisela, with Orange Police Department; Matt Liffreing, producer of the cable show "HB Business News"; and Laura Saldarriage Lopez, Chemistry professor at El Camino Community College. Alumni Pillars of Achievement recipients are recognized for notable achievement in their field of endeavor after leaving GWC for 10 years or more. Eligible nominees completed 30 units or more at Golden West.
Three donors, GWC's Acting Vice President of Instruction Albert Gasparian, and wife Patti; CCCD's Board of Trustee President, Mary Hornbuckle and husband Jerry; and Red Oak Investments were also acknowledged for moving up to the level of Golden Society ($10,000 to $24,999) on the Courtyard Donor Wall.
Golden West College congratulates our honored alumni and salutes the individuals and businesses that support higher education to ensure our students' success!