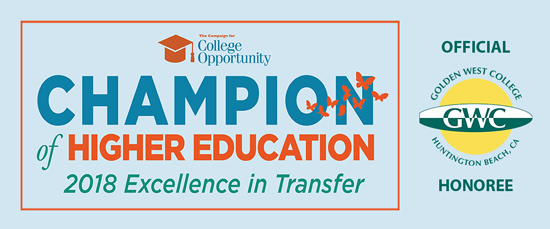 HUNTINGTON BEACH, CA (October 16, 2018) – For the second year in a row, Golden West College was named a "2018 Champion of Higher Education," by The Campaign for College Opportunity. GWC was recognized for its extraordinary work in awarding and implementing the Associate Degree for Transfer (ADT), helping its students achieve their educational and professional goals.
GWC offers 23 ADTs, and has Transfer Admission Guarantee (TAG) agreements with UC campuses.  It also provides students with valuable resources including transfer fairs, workshops and access to university representatives.
In 2010 the Campaign for College Opportunity, with then Senator Alex Padilla, sponsored SB 1440 to increase transfer rates for community college students to four-year universities. Since then, over 100,000 students have earned an Associate Degree for Transfer, and those enrolled in CSUs have earned their bachelor's degree almost twice as fast as other transfer students.
About Campaign for College Opportunity:
The Campaign for College Opportunity is a California non-profit bipartisan policy and research organization focused on a single mission:  to ensure all Californians have an equal opportunity to attend and succeed in college in order to build a vibrant workforce, economy and democracy. For more information, visit www.CollegeCampaign.org, Facebook.com/CollegeCampaign or follow @CollegeOpp.
ABOUT GWC:
Located in Huntington Beach, California, Golden West College is a two-year, medium-sized college, serving over 15,000 students on a 122-acre campus. GWC offers over 60 Associate degrees, a strong university transfer program, more than 40 Career and Technical Education certificates, community education, and extensive student support services. Founded in 1966, Golden West College has been widely-recognized for its pioneering leadership in designing learning-centered programs and services for its students. Golden West College is part of the Coast Community College District, a multi-college district that includes Orange Coast Collegeand Coastline Community College. Information about GWC can be found at www.goldenwestcollege.edu.