GWC students and staff participated in a week of events and activities for the campus' third annual Sexual Assault Awareness Week.  The goal of the daily events was to educate students about sexual assault issues and affirmative consent, promote healthy relationships, and provide resources for victims of assault and abuse.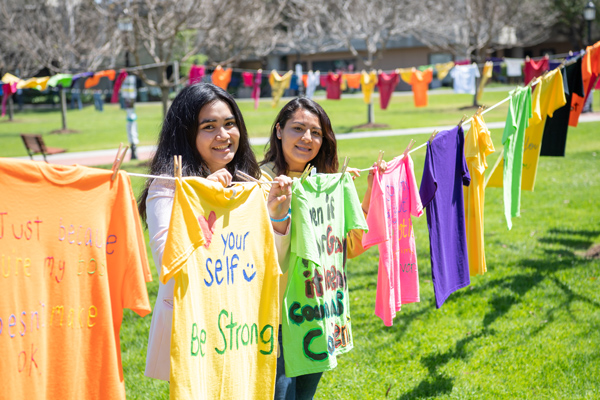 GWC Students hang t-shirts for The Clothesline Project. [Photo credit: Greg Parks]
On Monday 4/23, local GWC activists for The Clothesline Project hung up hundreds of custom student and staff-designed t-shirts in the quad, which served as a powerful visual throughout the entire week.  The shirts featured personal messages and designs – visual reminders that physical, mental and emotional abuse and violence exists in our communities.  Each t-shirt's blank canvas also provided survivors with a venue to break their silence and share their stories, and to let others know that they are not alone.
The annual Consent Fair was hosted next to the Student Center on Tuesday 4/24. Organizations from the community and campus, including Planned Parenthood, the GWC Student Health Center and CFA Victims' Advocates, provided students with education and resources.
---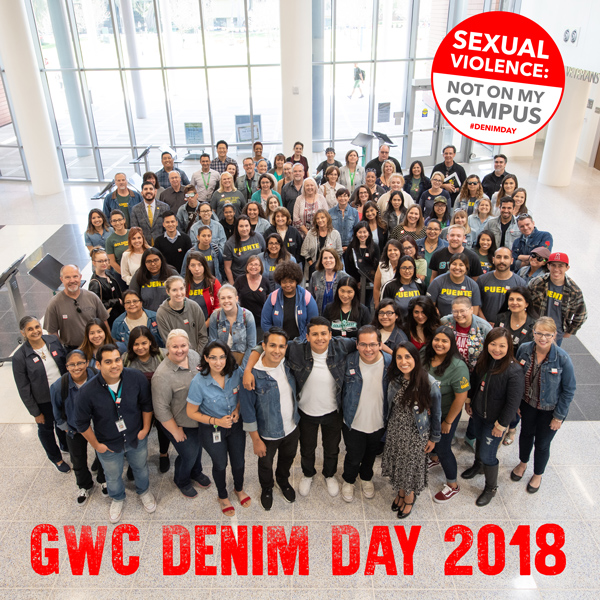 [Photo credit: Greg Parks]
On Wednesday 4/25, GWC students and staff wore denim in support of Denim Day, a worldwide campaign that aims to bring awareness to the misconceptions that surround sexual assault.  A photo was taken in the new Student Services Center and posted on GWC's Instagram account (see image).  In addition, the GWC Theatre Arts department produced an interactive improv show, where students were asked to help act out scenarios including potential sexual assault, verbal domestic partnership abuse, and sexual harassment situations. The workshop helped teach students that they have the power in these situations to change the outcome.
The week's events capped off on Thursday night, 4/24, with Take Back The Night, hosted on the Humanities patio, featuring a speaker, discussions and a live musical performance.  Students participated in an evening of empowerment by walking in solidarity through campus with lit tea lights, reclaiming the night and letting survivors know they are not alone.