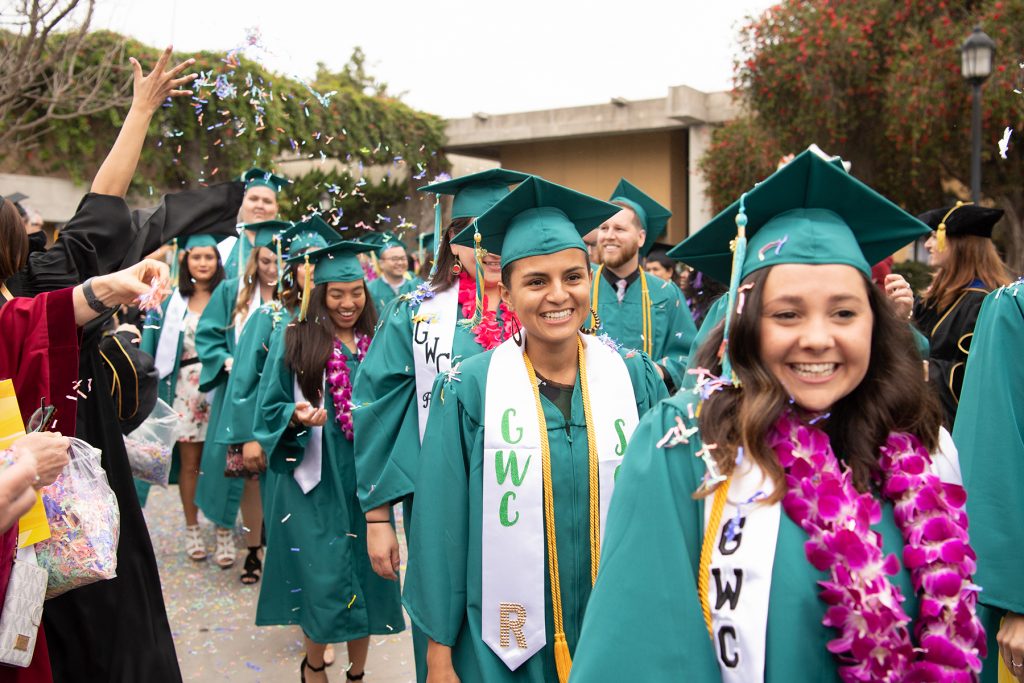 GWC students enter the central quad at the 51st Annual Commencement Ceremony.
Thousands gathered at Golden West College's central quad to congratulate and celebrate the 1,643 students graduating with an Associates of Arts and Sciences degree or Certificate of Achievement at the college's 51st Annual Commencement Ceremony on Thursday, May 24, 2018.
Over 400 graduates walked across the stage to receive their diplomas from Academic Senate President Jaima Bennett and the 2018 GWC Teacher of the Year Scott Taylor.
39 international students were recognized from 14 different countries, including Australia, Brazil, Canada, China, France, Germany, Ireland, Japan, Lebanon, Poland, South Korea, Switzerland, Syria, and Vietnam.
22 occupational areas were represented, from which students received Certificates of Achievement.
274 students graduated with honors, with a 3.5 GPA or higher.
29 graduated with a perfect 4.0 GPA!
GWC Police Academy Class 157 presented the flags to the standing-room-only audience.
Nuran Altier, the Associated Students of Golden West College Executive Student Council President, opened the ceremony with the Pledge of Allegiance.  The Star-Spangled Banner was sung by members of the GWC Chamber Singers and graduates, with assistance provided by the Interpreter Training Program Class of 2018.
President Wes Bryan gave students a big "Rustler welcome" and led them in the annual tradition of taking a selfie with their classmates.  He added, "Graduates, tonight you get to be here because you did college right."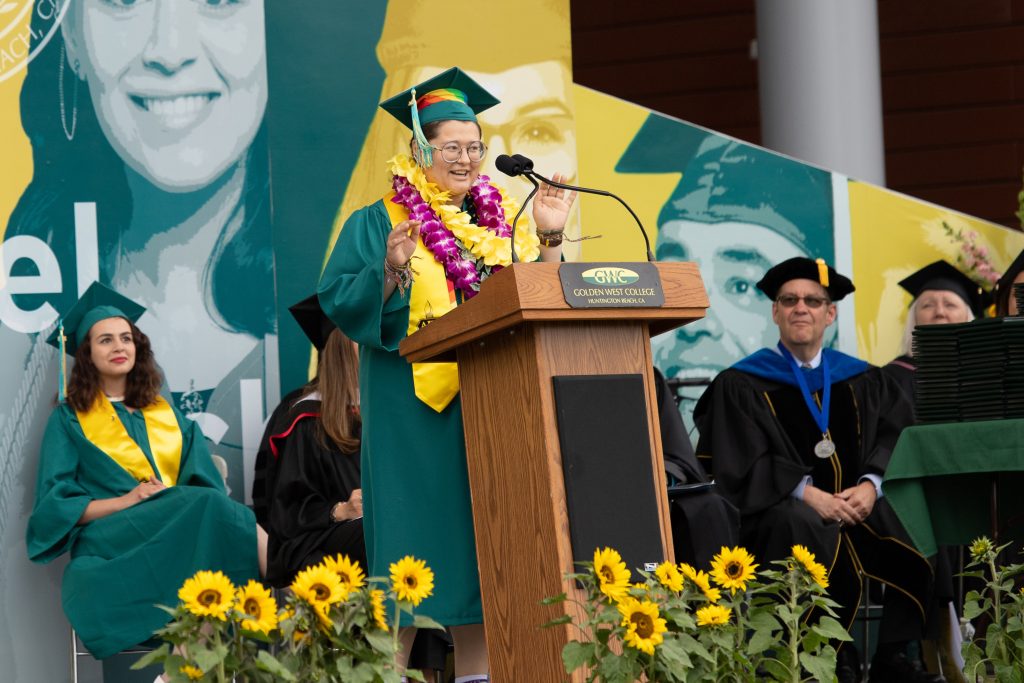 Center: Vanessa Hardin, co-recipient of the 2018 R. Dudley Boyce Outstanding Student of the Year Award.
This year marks the first time in GWC's history that two students were honored with the R. Dudley Boyce Outstanding Student of the Year Award.  The first recipient, Vanessa Hardin, was introduced by Dr. Michelle Palma, professor of Geography at GWC.  "This award is so fitting for Vanessa because she embodies everything there is about being an outstanding student," said Dr. Palma.  "Golden West College is a better place because of Vanessa, and I can't quite imagine this place without her."  Vanessa Hardin took the stage, saying "Golden West College has changed my life in more ways than anyone will ever know.  At Golden West College, I have somehow transitioned into a person who not only knows how to survive, but how to thrive."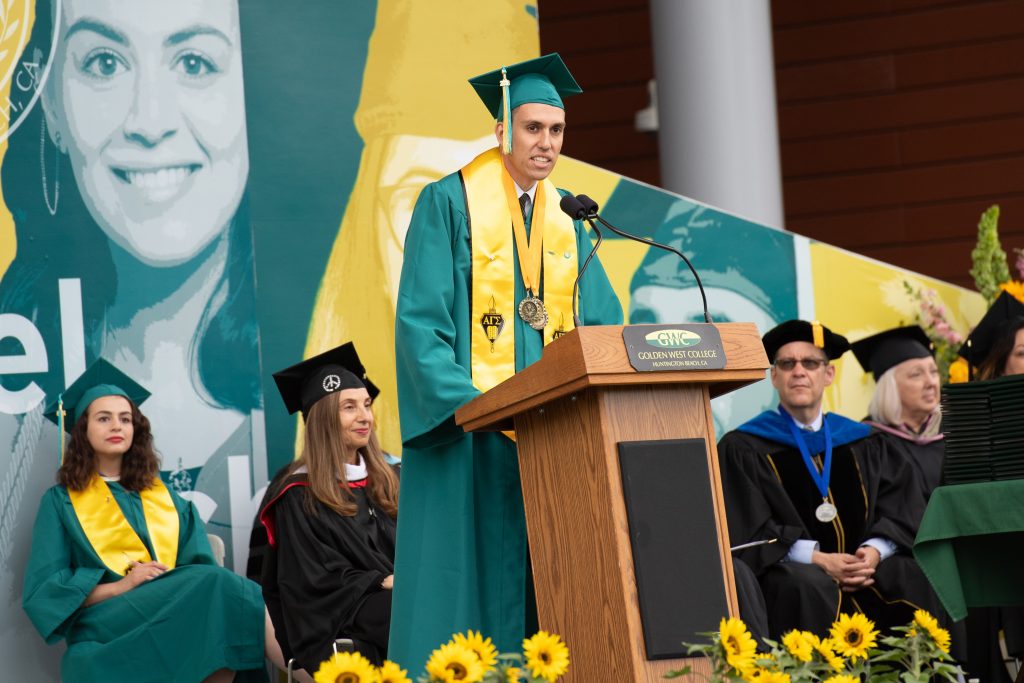 Center: Javier Venegas, co-recipient of the 2018 R. Dudley Boyce Outstanding Student of the Year Award.
The second R. Dudley Boyce Outstanding Student of the Year Award recipient, Javier Venegas, was introduced by Fran Faraz, coordinator of the Peace Studies Program at GWC.  "Javier has served as a bridge between the students and our institution," said Faraz.  "Simply put, he has consistently served his fellow students honorably."  Javier Venegas told students, "If you can see it, you can be it.  I challenge you to bring along the skills and leadership you have learned here at Golden West College, and to promote peace and equality in all you do."
President Bryan and Dr. Yvonne Portillo welcomed the 2018 Commencement speaker, Patricia Gomez.  Gomez is a first-generation college graduate and California Community College professor at Fullerton College.  She earned her Associates of Liberal Arts degree with high honors from GWC in May 2010, and was the 2010 recipient of the R. Dudley Boyce Outstanding Student of the Year Award.  Gomez shared a personal story with students citing how GWC changed her life, and was the catalyst which started her journey in higher education.
Coast Community College District Board of Trustees President, Mary L. Hornbuckle, congratulated the graduates saying "May you students, continue your pursuit of personal achievements, and strengthen your commitment to making our society better."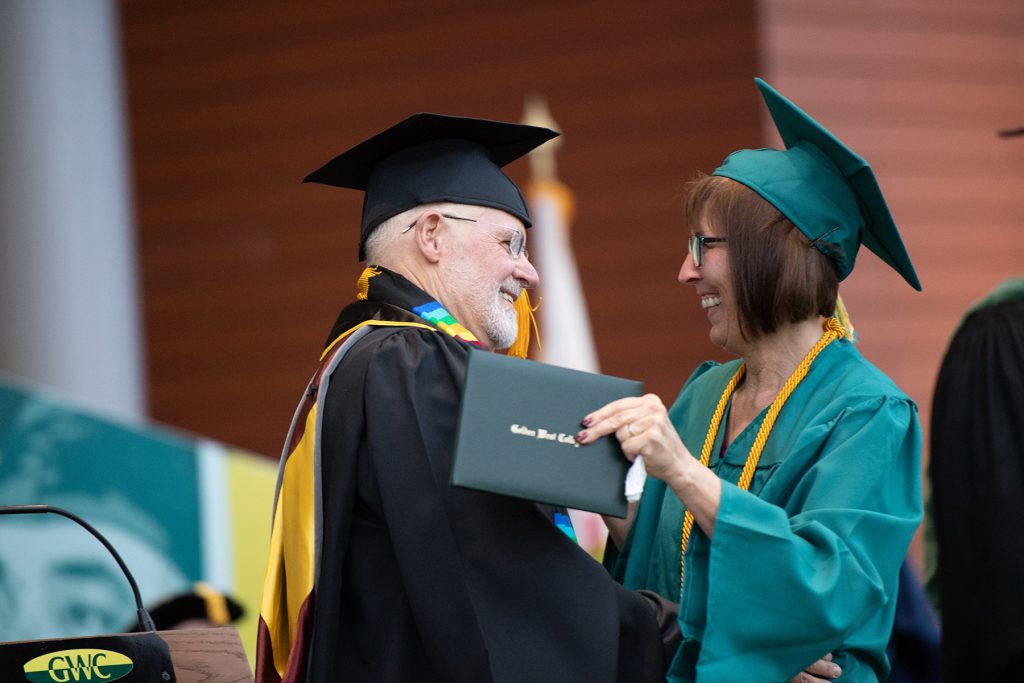 L to R: GWC President Wes Bryan and Terri Zwick.
The commencement ceremony ended with a surprise graduate, who was not listed on the official program. President Bryan's wife, Terri Zwick, received her AA in Peace Studies, and was the final diploma recipient to walk the stage.  "It was a pure joy to surprise Wes, it all began with an introductory class in Peace Studies and then became more," said Zwick.  "Involvement with students at GWC hooked me back in to pursuing this newest degree and I'm excited to use this knowledge as we move forward."
After students turned their tassels from the right to left, President Bryan closed the ceremony saying, "As a president, there's nothing better than shaking hands with graduates.  You are what we're here for, and what a pleasure it was to congratulate you."
The ASGWC provided the post-commencement reception on the new Student Services Center north patio.
To view and download commencement event coverage, please visit: http://bit.ly/GWCCommencement2018