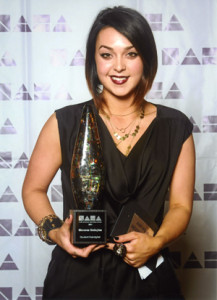 GWC Cosmetology alumnus wins 1st place as Student Stylist of the Year
Giovanna Simington, recent graduate of Golden West College's Cosmetology program, won 1st Place as Student Stylist of the Year at the North American Hairstyling Awards in Las Vegas on July 22, 2011.
The North American Hairstyling Awards (NAHA) is the most prestigious photographic beauty competition in North America, celebrating the artistry and skill of the professional salon industry. Individuals are recognized in 13 categories and according to the Professional Beauty Association (PBA), the awards are recognized as a true pinnacle career achievement in the industry. NAHA draws from a diverse and internationally renowned list of hairstylist and makeup artists from the United States Canada, Great Britain, Australia, and Switzerland.
Simington's father, Dusty Simington, a Newport Beach based celebrity hair stylist and former OC METRO Hot 25er, is a NAHA Master Stylist recipient. She recognized her father in her acceptance speech stating that she "couldn't have done it without his help and support."
Simington, 19 years old, is a graduate from the Golden West College Cosmetology program and recent licensed hair stylist. Her peers and instructors were among the many in support of her nomination for this prestigious award.