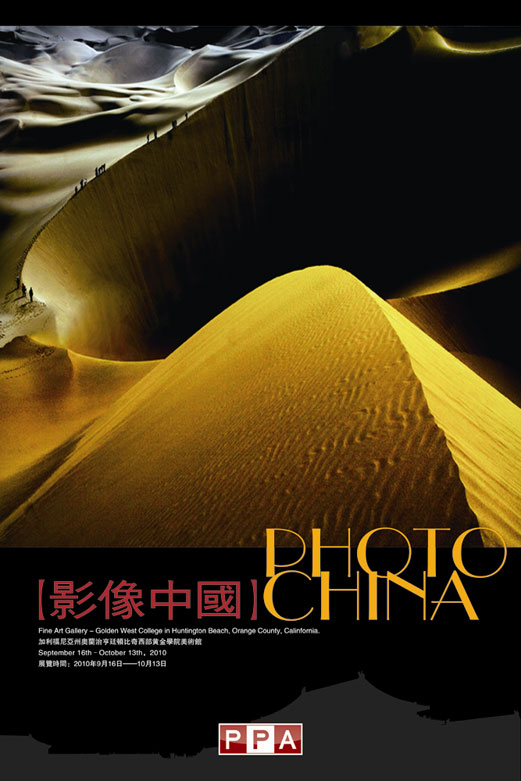 Golden West College is pleased to announce that "Imaging China: Contemporary Photographs from Commercial and Fine Arts," is on display in the campus' Fine Arts Gallery. The exhibit opened Sept. 16 and runs though Oct. 20.
The photographers featured in this exhibit utilize traditional and digital photographic techniques to convey a personal message through their images. This eclectic exhibit was assembled in China and comprises a broad range of subjects and imaging techniques. Included in the exhibit are images from more than 50 photographers from across China, representing traditional life, modern commercialism, and creative expression.
Darrell Ebert, director and curator of the exhibit at Golden West College, is most impressed with the variety and high quality of the images. According to Professor Ebert, "The exhibit illustrates not just traditional images from China, but also a wide range of creative approaches to traditional photography, both in color and black and white."
Bing Zeng curator of a similar exhibit in China notes that "Photography in China as an art is relatively new, and modern practitioners are courageous as they expand the boundaries of traditional hand-crafted art and bring a personal perspective to each image." Ms. Zeng is the Managing Director in China for the Professional Photographers of America and is one of the driving forces behind PhotoAsia and the World Photography Contest that will be held in Jinan, China in November 2010.
Hours for the exhibit are Mondays through Fridays from 10 a.m. – 2 p.m. and Tuesday evenings, from 6 – 8 p.m. Admission is free. For more information: www.goldenwestcollege.edu/finearts.