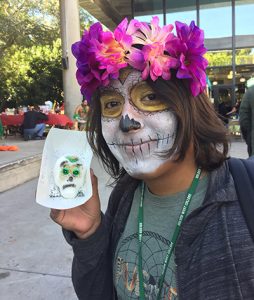 On November 2, 2016, the Intercultural Program at GWC held its annual Dia de los Muertos – Day of the Dead – event in the student center patio. The event drew a large crowd of students, faculty and staff who enjoyed a special day of cultural learning, dance, music, crafts, and food.
"Día de los Muertos" is a very special time to salute the deceased with private altars and special foods. GWC Puente students created altars and displayed them on the patio stage.
Students had their faces painted by the Cosmetology Club, decorated sugar skulls, danced, and enjoyed free tamales. An  interactive Aztec cultural dance performance was a highlight of the event.