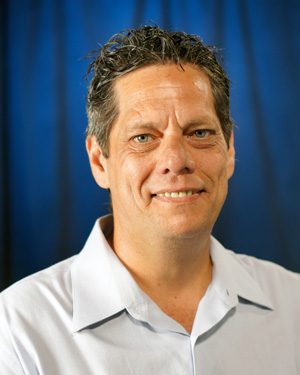 Meet Dale Lendrum, 2011-12 ASGWC President
Major:  Communication Studies with a Career Certificate in Computer Business Applications
Dale Lendrum is currently fulfilling his dream of attending school at GWC after his life as a former addict. Serving off campus as a Sponsor for Recovering Addicts in Narcotics Anonymous (N.A.), Dale is planning to complete his education as a Communication Studies Major and receive his certificate in Computer Business Applications. He hopes to join the GWC family of staff in order to help enrich the GWC experience for future students.
Dale became the ASGWC President in May, 2011 and will serve the students until June 2012.
"This school, faculty, staff, and students inspire me on a daily basis. GWC represents my new foundation for the future."
Fall 2011 Welcome Letter from Dale Lendrum, ASGWC President
Welcome to Oceans of Opportunity,
What a year this plans to be as Golden West College celebrates its 45th birthday in style. With the unveiling of the new, state of the art, Learning Resources Center, Library, Media Center and Staff Development Center, Golden West College is poised to offer its students cutting edge technologies to assist them in learning and reaching their educational goals here at GWC. It is indeed, as President Bryan has said, "a showcase building." Having walked through the LRC several times during its construction and near its completion, I can honestly say that I see opportunity in every nook and cranny of this beautiful new building. But don't take my word for it, see for yourself. Or better yet, grab some of the new friends you've already made on campus and take a tour together. You won't be sorry.
As a new or returning student you may wish to enrich your college experience by becoming involved in the various clubs on campus. Statistics have shown that those who become involved in extra-curricular activities on campus have a greater chance of completing their educational goals as well as enjoying a more well-rounded college experience. Or perhaps the current economic climate, which has had a significant impact upon community colleges as well as other institutions of learning, has inspired you to become involved in Student Government as a way to make your voice heard and to advocate on behalf of current students as well as those who will come after us. Whatever the case may be, we encourage you to visit the Student Activities Office located above the Student Center for more information on how you can become more active in campus life and how taking advantage of these opportunities can benefit you as a student.
As Student Body President this year I can assure you that your Student Government is excited about the year to come and will do its very best in representing you, the students of Golden West College. We are committed to the tasks at hand and the entire student body. I look forward to seeing you on campus. Best of luck, and enjoy Oceans of Opportunity at Golden West.
Dale Lendrum
ASGWC President