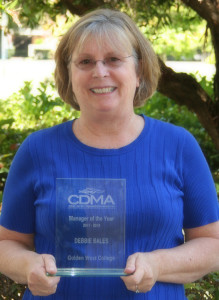 Debbie manages four departments (Promotions, Outreach, New Media, and Veterans Center) while also providing campus support as photographer, graphic designer, and participation in a multitude of campus and district meetings and events.
Debbie goes above and beyond the call of duty almost every day. She does high school outreach events on her own time, serves on community groups representing GWC and is a great ambassador and advocate for the students, faculty and staff of Golden West College.
When President Wes Bryan heard Debbie was selected Manager of the year for GWC he commented that, "it seems like no matter what event you're at on campus, Debbie is one person you're likely to see working the crowd, taking photos, helping answer questions, setting stuff up or taking it down.  She always has a smile on her face and is fully engaged in promoting all that is good about our college. She is definitely a hands on manager who leads by example."
Debbie is hard-working, forward-thinking, and recognizes the best in her staff and colleagues. She challenges her staff to expand their knowledge in their fields and develop professionally for the benefit of CCCD.
In the midst of busy schedules and projects, you can count on Debbie to stop, smile and be the first one to offer her help to any department or student here on campus.
Congratulations, and thank you, Debbie!