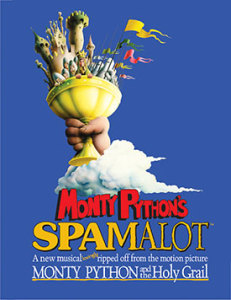 The Golden West College Theater Arts department has assembled an energetic, talented cast to star in their upcoming production of Monty Python's SPAMALOT.
Performance dates are May 1 – May 10 in the Golden West College Mainstage Theater. Tickets are on sale now through the GWC Theater Arts department website at www.gwctheater.com or through the GWC box office at 714-895-8150.
Steve De Forest and Nina Ramos star in this outrageously silly musical. Featured performers include Patrick Rowley, Mark Ramos, Brock Joseph, Paul Jasser, Jay Harbison and an all-singing, all-dancing 20-member ensemble.
Director and choreographer of this production is Martie Ramm with musical direction by Rick Heckman.
Monty Python's SPAMALOT features book and lyrics by Eric Idle with music by John Du Prez and Eric Idle. Winner of the 2005 Tony Award for Best Musical, Monty Python's SPAMALOT is a musical comedy sensation lovingly ripped off from the film classic "Monty Python and The Holy Grail." with original screenplay by Graham Chapman, John Cleese, Terry Gilliam, Eric Idle, Terry Jones, Michael Palin.
SPAMALOT tells the tale of King Arthur and his Knights of the Round Table on their quest for the Holy Grail — with a short stop in the dazzling Spam-filled land of Camelot. The show boasts dancing divas, the knights who say "Ni!," flatulent Frenchmen, killer rabbits and one legless knight who sings and dances, of course.
SPAMALOT'S mission is to spread laughter and cheer throughout the kingdom. It succeeds beautifully.
This production contains adult language and situations, and is intended for mature audiences.
For additional information or to purchase tickets, visit the GWC Theater Arts department website atwww.gwctheater.com.