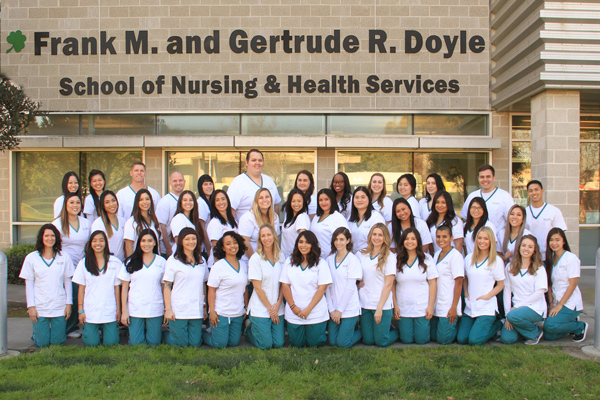 The GWC School of Nursing Spring 2018 Class. [photo credit: Barbara Erselius]
The GWC School of Nursing held its Spring 2018 Pinning Ceremony on Monday, May 14, 2018, on campus in the Forum I auditorium. A total of 40 nurses were pinned, marking their induction into the nursing profession.  The pinning ceremony represents a meaningful experience for students, and originated in the 1860s at the Nightingale School of Nursing in London.  Florence Nightingale, the founder of modern nursing, was awarded The Red Cross of St. George medal for her selfless service to the injured and dying in the Crimean War.  Nightingale chose to extend the honor to her most outstanding graduate nurses by presenting each of them with a medal for excellence.
GWC's Nursing pin was created by the first graduating class in 1970 and features the Nightingale lamp (a symbol of a nurse's care and devotion), caring hands, a golden sunrise, and mountain.  The colors green and gold adorn the pin, symbolizing growth, harmony, and wisdom, among other traits.  The class motto, "Audium cum amore," translated from Latin means, "I will listen with love."  The pin is a reminder of each nurses' accomplishments, the thousands of hours spent studying, and the bond that the class has created.  "Even though we will all go on our separate paths, we will always be connected by our GWC Nursing pin and the memories that were made before this day," said Dr. Diane Restelli, GWC School of Nursing Director and Associate Dean.
The ceremony also includes the Lighting of the Lamp, its significance going back to when the pinning ceremony was first initiated in the 1860s.  Florence Nightingale would light a lamp and pass the flame to each nurse as they said the Nurse's Pledge.  GWC's lighting ceremony is performed by two professors, who pass one candle to two students, symbolically receiving the light for the entire class.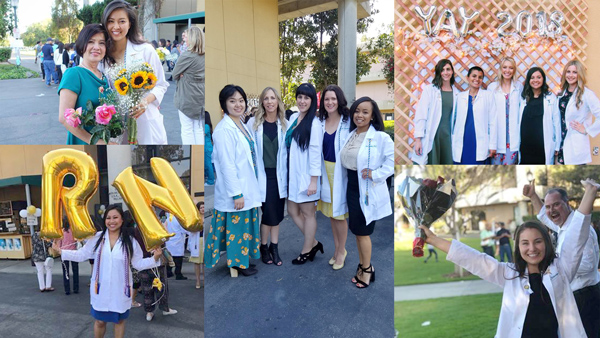 GWC School of Nursing Spring 2018 graduates and guests. [photos provided by School of Nursing]
Jennifer Martinez received the Gladys Crown Scholarship, which is awarded once a semester.  Provided by Cathy Crown, a GWC retiree, this scholarship is awarded in honor of Cathy's mother, Gladys, who was cared for by GWC nursing students many years ago.  Special thanks go to the spring 2018 Pinning Board Committee for all of their efforts: Jennifer Martinez, Cassidy Compton, Jacqueline Sanchez, Arelia Bouronich, and Morgan Hansen.