Golden West College held its 47th Annual Commencement Ceremony  in the Central Quad on Thursday, May 22, 2014.  This year 1,363 students were awarded 1784 Associate in Arts Degrees (977) and/or Certificates of Achievement (797).  Thirteen graduates were recognized for earning a perfect 4.0 grade point average and 208 students graduated with honors, having earned a 3.5 GPA. Twenty-eight international students, from nine countries, received their AA Degree or Certificate of Achievement and flags representing their countries were placed around the Quad.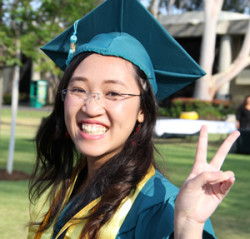 The student address is customarily given by the recipient of the R. Dudley Boyce Outstanding Student Award. This year's impressive recipient was Trang Phan. Her message inspired the 300 graduates and over 1200 guests who attended the ceremony. Trang grew up in Vietnam and moved to the U.S. just four years ago. In 2011, she enrolled at GWC, with limited English, and within 2 years she was an honors student and had become very active in student life. She joined the Alpha Gamma Sigma (AGS) Honor Society, serving as their Historian and Publicity Coordinator, and was a senator in student government where she served on the Student Interest Committee. As a Psychology Major, Trang also founded the Psychology Club serving as Co-President for two semesters. In closing, Trang shared her favorite quote by Bil Keane, "Yesterday's the past, tomorrow's the future, but today is a gift. That's why they call it the present." Trang Phan is transferring to California State University, Long Beach in the Fall.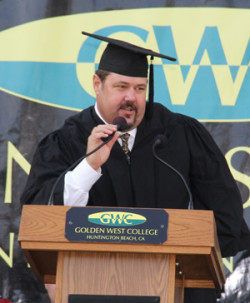 The 2014 Commencement Speaker was Justin Krumb, a GWC alumnus and an Emmy winning producer/director. Justin's work has been shown on Fox, ESPN, Versus, Fuel TV, Speed Vision, National Geographic TV, and PBS as well as multiple film festivals. In 2006, he was awarded an Emmy for The Next Wave, a Tsunami Relief Story, which chronicles the the surfing industry's effort to assist with the disaster relief after the tsunami in Indonesia. For almost two decades, he has worked on a variety of documentary and commercial projects and has has worked with such celebrity talent as Hayden Panettiere, Robin Williams, Jack Johnson, Bob Dole, Lance Armstrong, Esi Morales, "Wingnut", Trevor Hoffman, Kelly Slater, Tony Hawk and Dave Rastovich. In 2008 Justin founded The Saltwater Collective, a group of award-winning artists, filmmakers, designers and athletes that are committed to creating awareness—through thoughtful, entertaining documentaries and various media—of the imperiled state of the world's oceans and cultures. At the same time they seek to explore and highlight possible solutions, and how we can help them by spreading the word.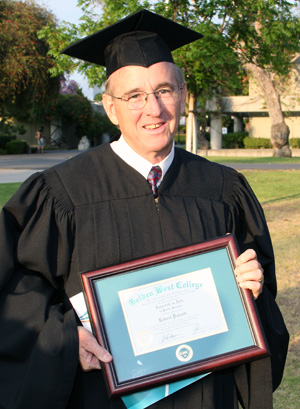 This year GWC chose to confer an Honorary Degree (something we don't do very often), to Bob Polentz, GWC Foundation Board Member. After 27 years of service in raising scholarship funds for the students at our college, Bob is retiring from the Foundation, and the college formally acknowledged his exceptional service to the college and our community by presenting him with and Honorary Degree for Public Service.
Golden West College President Wes Bryan presented the class of 2014 and the class was accepted by Mary Hornbuckle, President of the Coast Community College District Board of Trustees. The students' names were read by Vice Presidents Janet Houlihan and Dr. Omid Pourzanjani followed by the awarding of degrees and certificates by Academic Senate President Gregg Carr and Teacher of the Year Jane Smith, as students walked across the stage to cheering families and faculty.
A reception, provided by the Associated Students and GWC Patrons immediately followed the ceremony at the south end of the Quad.