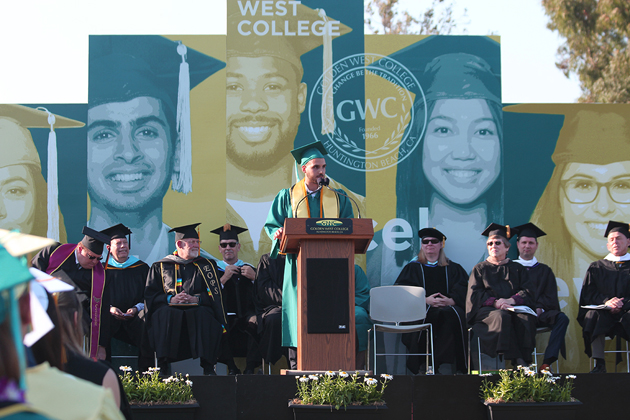 On Thursday, May 26, 2016, Golden West College hosted its 49th commencement ceremony in the school's central quad. After the GWC Police Academy Class 152 presented the flags, ASGWC President Melody Mulligan led the Pledge of Allegiance. Next, the GWC Chamber singers and Master's Chorale sang a special arrangement of "My Country 'Tis of Thee" conducted by GWC Professor of Music Dr. Bruce Bales.
Against a colorful green and yellow backdrop onstage, President Bryan welcomed the over-flowing crowd to the campus. "We are here to salute our graduating students and to recognize the Golden West faculty and staff for their efforts in contributing to the success of the students we honor tonight," Bryan said. He went on to honor both student veterans and other veterans in attendance and thanked them for their service to our country. President Bryan pointed out the flags flying around the quad. "Along with the American flag flying during graduation, I would like to call you attention to the other flags that surround us as well," he said. "These flags represent some of the countries of our international students." He explained that 22 students from the international program were receiving Associate of Arts or Science degrees, with two receiving Vocational Certificates of Achievement.
Dr. Paul Tayyar, GWC Associate Professor of English introduced graduate Christopher DeLuco, this year's recipient of the R. Dudley Boyce Outstanding Student Award. Christopher thanked the faculty and fellow students for making his experience at Golden West memorable.
Learning Resources Center professor Dean Mancia introduced keynote speaker and last year's GWC Alumni of the Year recipient Steve Barnes. "What I have learned along the way," Barnes said, "is that life long principles are the most important thing. The foundation of that lesson began here at Golden West."
This year, GWC recognized 1,495 students who received the Associate of Arts or Associate Transfer Degree and students receiving Certificates of Achievement. There were 282 students graduating with honors, having earned 3.5 GPA or higher and 22 graduates with a perfect 4.0. Not all recipients were able to attend Thursday's ceremony, including the Rustler Baseball team who were at the state finals this weekend. As Vice Presidents' Janet Houlihan and Omid Pourzanjani read the names, approximately 300 graduates walked across the stage to receive their diplomas from Academic Senate President and Professor of Theater Arts Martie Ramm Engle, and Instructor of Biological Sciences and 2016 GWC Teacher of the Year Annamaria Crescimanno.
"Tonight you should be proud to be graduating from a California Community College," said President Bryan. "Many of us believe that the community college is America's great contribution to the idea of higher education because our core value is to offer higher educational opportunities to all citizens."
# # # #