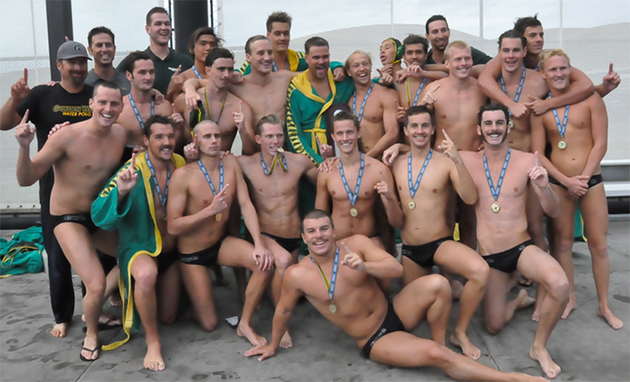 Livermore, CA – The Golden West College (31-0) Men's Water Polo team claimed the program's 24th California Community College Athletic Association State Championship on Saturday afternoon. The Rustlers did so in emphatic fashion with a 15-8 victory over Long Beach City College (22-7).
The Rustlers set the tone with their defense early on, keeping Long Beach off the scoreboard until the 2:24 mark of the second quarter. By that time, Golden West had worked up a 9-0 lead over the Vikings, thanks to three goals by Peter Lovas, two more from Alex Nathan, and another pair from Lachlan Trabinger.
Long Beach's first strike would come deep into the second quarter when Miles Martinez helped convert t a 6-on-5 opportunity for the Vikings. Golden West would go on to match the Long Beach effort when Rowan Farrell scored on  a power play to make it 10-1. The Vikings would try to make a late run in the third quarter, using a 3-1 spurt to cut their deficit to seven after a goal by Gavin Kunkle. The Rustlers would score the next two and put the game away to secure the State Championship victory.
In the victory, tournament MVP Lovas would score a game-high five goals for Golden West. Nathan would add three, while Tom McJannett would help draw team-high three exclusions, while goalie Sid Dymond put on a show in the cage with 17 saves and a pair of steals. For Long Beach, Kunkle would score three times and draw a game high five exclsuons, while Teo Dadic added three more to go with a game-high four steals.