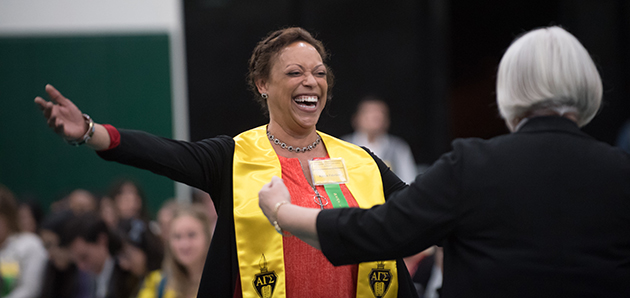 Golden West College held its annual Scholarships and Awards Ceremony on May 9, 2017 in the school's gymnasium. During the ceremony, both students and donors were recognized for their commitment to academic achievement as well as educational involvement.
Wes Bryan, GWC President, started the ceremony by asking the students to stand, take out their phones and take a selfie with the audience in the background. On three, everyone shouted a big "thank you," to their families and friends who came to show their support.
Vice Presidents Dr. Claudia Lee and Dr. Omid Pourzanjani read the scholarships as each recipient and donor came forward. This year, 453 scholarships were awarded to 294 students totaling $493,000. A reception followed the ceremony, giving students the opportunity to meet and thank their donors.
Many of these students are graduating from Golden West this year and will be using the much-appreciated funds to continue their education. In addition to the scholarships awarded tonight, a total of $370,286 in scholarships will be awarded at local high schools for incoming GWC students and at other ceremonies for Criminal Justice, Nursing, and Independent groups.
The R. Dudley Boyce Outstanding Student Award was presented to Shaniah Branson. The GWC Student Council established this award in memory of Dr. Boyce to recognize a student who most exemplifies the quality of leadership. The recipient of this award traditionally gives the student address at the commencement ceremony and Shaniah is preparing for her speech on May 25th.
Golden West College thanks the donors for giving these students an opportunity to reach their academic goals. It is wonderful that so many donors have chosen to support Golden West College students.