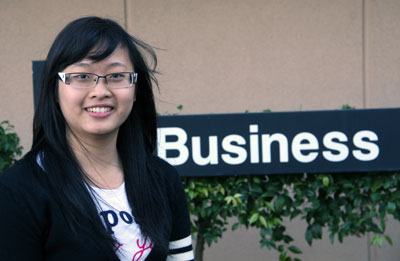 Anh "Bella" Tran is an International Student from Vietnam. She is only in her 2nd semester at GWC but she is already serving as International Student Club President, is the ASGWC Student Finance Commissioner, she is serving on the Budget and Planning committee, and is a volunteer tutor in multiple subjects. If that isn't enough, she also finds time to volunteer at the American Red Cross. In her "spare time" she enjoys jogging and hanging out with her friends.
Janelle Leighton, Director of the GWC International Student Program, had this to say about Bella, "Insightful, intelligent, and kind-hearted, Bella is a phenomenal student and a rising star!  Her leadership and academic successes abound. She welcomes our new international students and inspires those around her with humility and grace. Thank you, Bella. We are so happy you chose GWC for your U.S. study abroad experience."
Bella is a Business Administration & Management Major and plans to transfer to Berkeley or CSULB. She chose Golden West College because her brother attended GWC two years ago. Bella is very happy to be a GWC student. She loves the beautiful campus, the diverse student population, and the dedicated faculty and staff. But most of all, the great friends she has made.