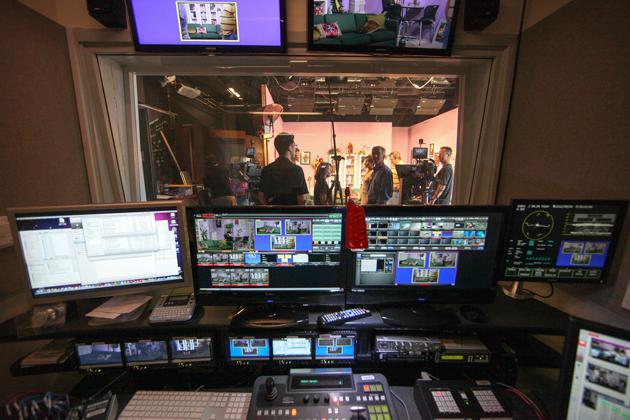 The new video production studio at Golden West College is ready for action, in fact, GEEK GIRLS, a pilot for an online sitcom, was recently completed by Digital Media students. The project took five days and was a joint effort by Digital Media students with instructor Renah Wolzinger, and the New Media & College Promotions staff.  GWC student Christopher Davila produced and directed the show.
Located in the Online Instruction wing of the new LRC building, this 40 ft. by 40 ft. state-of-the-art studio has three robotic HD cameras which are operated in the control room, eliminating the need for camera operators. Adjacent to the studio are two editing bays fully equipped with the latest editing software and hardware.
The New Media department provides video production services for instructors who wish to produce videos for online courses. We are planning to offer new services to include real-time interactive videos, webinars, and promotional videos.
The studio is also used to generate additional income for the college. Golden West has successfully produced training videos for POST (The Commission on Peace Officer Standards & Training) for many years. We will be expanding the business to other organizations in the near future.