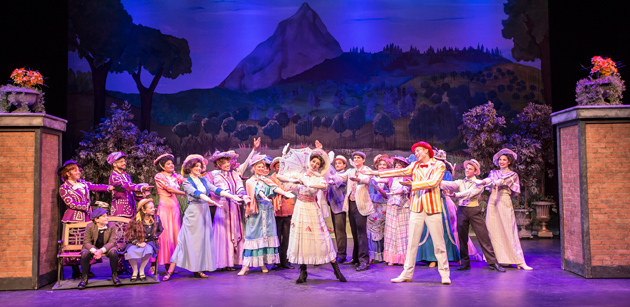 On May 25, 2016, The University Arts (UniArts) Awards were presented in conjunction with the National Youth Arts Awards at the Rose Center Theater in Westminster.
We are proud to announce that Golden West College Theater Arts received five awards for its production of Mary Poppins. 
Outstanding Lead Actress – Dayna Sauble, as Mary Poppins
Outstanding Lead Actor – Zachary White, as Bert
Outstanding Supporting Actor – Jay Harbison, as George Banks
Outstanding Direction – Martie Ramm
Outstanding Choreography – Martie Ramm
When Director Martie Ramm heard about this recognition, she congratulated Dayna, Jay and Zack, and added, " My thanks as well to the entire company as it did indeed take a village to produce a great MARY POPPINS."
About the Actors
Dayna Sauble (Mary Poppins) was thrilled to be portraying a dream role of hers as well as finally flying in a show!  Some of her favorite past roles have been: Ariel (The Little Mermaid), Belle (Beauty and the Beast), and Jane (Tarzan). She currently works as a performer at Teatro Martini and also performs as various princesses for kids' parties and events. 
Zackery White (Bert) has been a part of musical theater since he was 10 years old.  He most recently played in shows such as Beauty and The Beast (Lumiere), Into The Woods (The Baker) and Seussical (Horton).  This is his second year as a student and his very first show here at Golden West College.
Jay Harbison (George Banks) appeared in his third show at Golden West College. His training is in choral music and he has been in two show choirs and performed at several national competitions including the World Music Festival. He has performed as a dancer as well as an actor in many shows and was a dancer in several parades at Disneyland before joining the Navy and performing with the Navy Choir. Jay has had leading roles in several productions over the years such as South Pacific (Emile De Becque), Grease (Danny), Godspell (Jesus), and Hansel and Gretel (Hansel). He has also played principle roles in other shows including Monty Python's Spamalot, Romeo and Juliet, Les Miserables, Cinderella, Little Shop of Horrors, The King and I, Big River, and On Broadway, a tribute to Broadway musicals of the 80's in which he was a featured singer and dancer.
Martie Ramm Engle, Director/Choreographer
As a professional performer, Martie has appeared on Broadway (Evita w/Patti LuPone), in London (A Chorus Line), in several national tours of the US (A Chorus Line, Annie, Show Boat), and in many regional theater productions including twice as Charity in Sweet Charity and in productions of I Love My Wife, They're Playing Our Song, The Mikado, Murder by the Book, Joan in The Guys and as Muriel in Dirty Rotten Scoundrels. Most recently, Martie starred as "A" in Famous for What?, in a role written for her.
Martie is also an award-winning director and choreographer and has directed professional theatrical productions throughout the United States including Mary Poppins, Monty Python's SPAMALOT, Noises Off, Romeo and Juliet, Boeing-Boeing, Irving Berlin's White Christmas, Legally Blonde, A Chorus Line; NINE, Don't Dress for Dinner, Seven Brides for Seven Brothers, Grease, The Secret Garden, A Streetcar Named Desire, Guys and Dolls, The Children's Hour, Beyond Therapy, The Laramie Project, The Fantasticks, The Importance of Being Earnest, The Sound of Music and many musical revues…just to name a few.
Martie performed for Disneyland and Walt Disney Productions for many years, starting as a dancing Mary Poppins (while still in high school) and graduating to directing and choreography. Martie then became an Associate Production Executive and Manager of Special Projects for Walt Disney Theatrical Productions where she supervised the Japanese and Australian productions and was production manager for the Los Angeles company of Disney's Beauty and the Beast.
Martie also spent many years managing and directing special events including the opening of the J. Paul Getty Center in Brentwood and the re-opening of the New Amsterdam Theater in NYC.
Currently, Martie is a Professor/Director/Choreographer in the Theater Arts department at Golden West College, Huntington Beach. She has been nominated for GWC Teacher of the Year twice, was the recipient of the national Ursa Major award from Alpha Phi Sorority, and received the John & Suanne Roueche Excellence Award from The League for Innovation in the Community College. She has earned a BA degree in Dance from UCLA, a MA degree in Theater Arts from CSULA and is a member of Actors' Equity Association and Alpha Phi sorority.