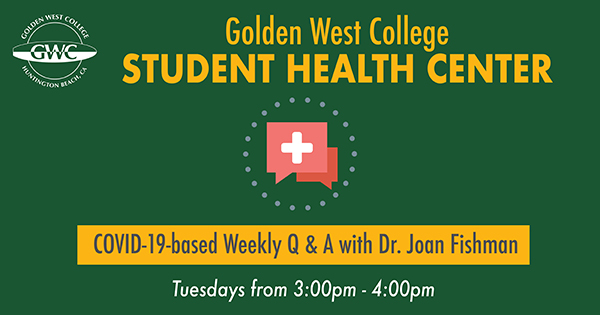 Tuesday, April 28, 2020 — The Golden West College Student Health Center launched a weekly live question and answer session today with its physician, Dr. Joan Fishman via Zoom.
"The COVID-19 pandemic is something none of us have ever experienced," explained Dr. Fishman. "Because this virus is new to everyone, including scientists and the medical community, the information is continually evolving and changing. The facts presented by multiple sources can not only be overwhelming and confusing, but lead to misinformation that is potentially dangerous. I thought it might be helpful to give our students, staff, and faculty an opportunity to ask me questions, since I am a physician, in the hopes that I could explain some of the particulars surrounding COVID-19 more clearly and answer specific questions for our college community. Having a greater understanding of some of the data may enable our campus community to better support the efforts being made to contain this virus, keep us healthier as a society, and ultimately get us back on campus!"
During this first session, students had questions about the proper use of masks, how to handle mail and packages, and the availability of testing for the virus.
Sessions will be on Tuesdays from 3:00 to 4:00 p.m. and are open to students, faculty and staff.