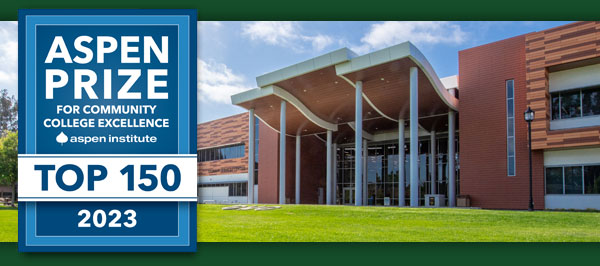 $1 Million Prize Recognizes Excellence in Equitable Outcomes for Students in and After College
Huntington Beach, Calif., November 3, 2021 — The Aspen Institute has named Golden West College (GWC) one of 150 institutions eligible to compete for the $1 million Aspen Prize for Community College Excellence, the nation's signature recognition of high achievement and performance among America's community colleges. GWC stands out among more than 1,000 community colleges nationwide as having high and improving levels of student success as well as equitable outcomes for Black and Hispanic students and those from lower-income backgrounds.
The 150 eligible colleges have been invited to submit data and narratives as the next steps in an intensive data and practice review process, culminating in the announcement of the Prize winner in spring 2023.
"Only 15 percent of community colleges have been invited to compete for the $1 million Aspen Prize," said GWC President Tim McGrath. "Golden West College is proud to be recognized for our enduring commitment to equity and student success."
The Aspen Prize spotlights exemplary community colleges in order to elevate the sector, drive attention to colleges doing the best work, and discover and share highly effective student success and equity strategies.
But student outcomes vary enormously among community colleges, and improving those outcomes is essential to securing our nation's economic future, strengthening communities, and ensuring that diverse populations experience economic mobility and prosperity. With these goals in mind, the Aspen Prize honors colleges with outstanding achievement in five critical areas: teaching and learning, certificate and degree completion, transfer and bachelor's attainment, workforce success, and equity for students of color and students from low-income backgrounds.
A distinguished jury will meet and make award decisions in the first quarter of early 2023. Announcement of the Aspen Prize will be in late spring 2023.