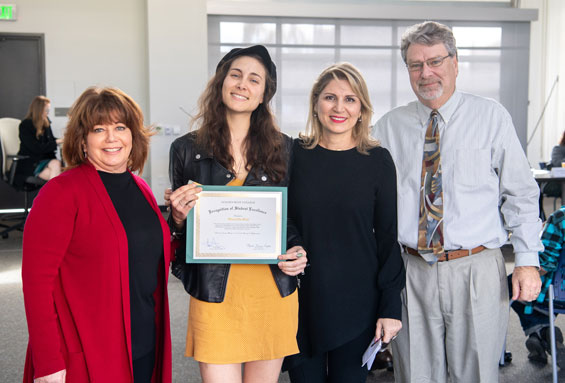 The President's Office and Academic Senate have partnered together to honor outstanding students for excellence in the classroom, campus community, or in their personal lives. Mariella was nominated by Mathematics instructor, Maryam Khakbazan and honored at the Planning and Budget meeting on February 27th by Academic Senate President, Martie Ramm Engle and GWC President, Tim McGrath.
Professor Khakbazan submitted the following nomination:
Mariella is a great student who always asks questions and helps others. She is extremely friendly with her peers, and she has a positive attitude all the time. She never complains, and she is such a dedicated student who has A's in all of her classes. This is what Mariela shared with me using her words: "My name is Mariel Regina Riat, but my friends and family often refer to me as "Mariella." I am 28 years old, and I was born and raised right here in Huntington Beach, California. I am studying to become a nurse here at Golden West. I have three brothers, two of which attend college as well. We are the first members of our immigrant family to pursue higher education. I plan to earn a Master's Degree and relocate to Seattle, Washington where I will happily devote my time to nursing. My parents migrated here from Buenos Aires, Argentina, and immediately joined an unforgiving workforce and started a family. When I was 18, I loaded up the back of my car with as much as I could and moved to Seattle alone without any local contacts. In seeking a change of pace and scenery, I realized my love for songwriting and playing musical instruments. I also realized my heart for my community and its less fortunate members. I worked to make the world a better place by sharing my art and by volunteering in various kinds of shelters and homes where I could assist the homeless or the elderly. Between music, adventure, and my community, I didn't expect another passion to grow but ten years later, it did nonetheless. I realized I want to become a nurse so that I can travel to communities around the world and provide more educated and purposeful aid. So here I am in my first official semester as a college student. Unaware of the intense workload, I enrolled in two accelerated online courses, Sociology and Spanish, through Golden West over Summer 2018 which lead to me achieving a 4.0 G.P.A. I have maintained that G.P.A. during my first full semester. I am enrolled full-time taking 12 units, and I maintain over 90% in all my current classes, including mathematics which was never considered a strong suit of mine. For ten weeks of the semester, I maintained a 102% grade in English until the teacher insisted I not overwork myself during midterms. This has been immensely difficult for me given that outside of school, I work over forty hours a week as a restaurant server by night and a childcare provider by day. On top of this, I volunteer in my community assisting homeless shelters, animal shelters, and retirement homes at least four times a year. Another time-consuming factor in my life is music. I am currently a member of two bands. One of them is my own, and I am responsible for writing, composing, and singing. The other is a rock band for which I play bass guitar and keys. We perform once a month or more and can often be caught at Surf City Nights in downtown Huntington Beach on Tuesday evenings. Additionally, I host a monthly open mic night in Long Beach as a form of community outreach among artists. The rare moments I am at home, I enjoy making music, cooking, exercising, and playing with my three dogs."
---
We appreciate the support of our faculty members who have submitted such wonderful nominations on behalf of their students.  The nomination period is ongoing so faculty may submit a nomination whenever you find that special student who is deserving of recognition!  Nomination Form [click here].